Jennifer Millar's Chocolate Budini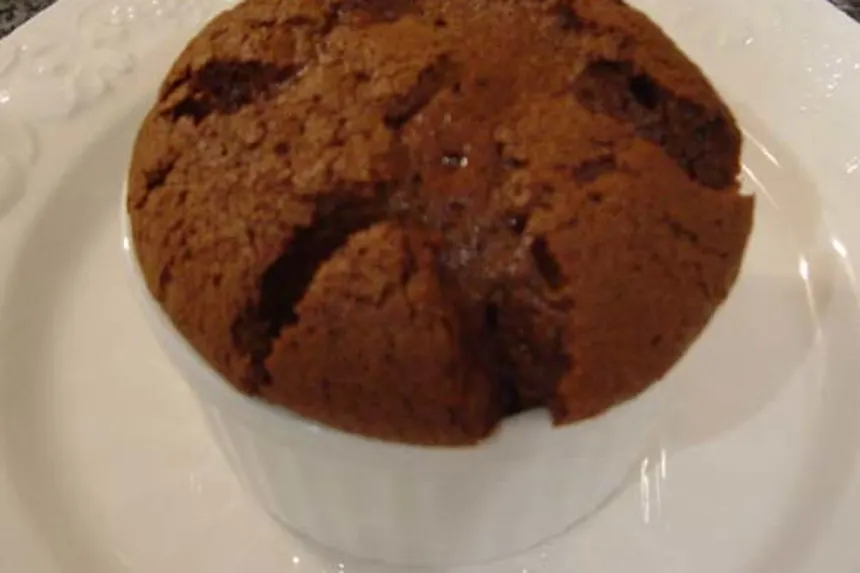 photo by Sackville

Ready In:

55mins

Ingredients:

8
directions
Position a rack in the lower third of the oven and heat to 375°F.
Melt the chocolate and butter with 6 tablespoons of sugar and the salt in a medium stainless-steel bowl placed in a skillet of hot, not simmering, water, stirring frequently.
Remove from the heat and cool slightly.
Whisk in the egg yolks and vanilla.
In a medium bowl combine egg whites and cream of tartar.
Using a hand-held electric mixer on high speed, beat until soft peaks form.
Add the remaining 6 tablespoons of sugar gradually, beating constantly, until the whites are stiff and glossy.
Fold 1/4 of the beaten whites into the chocolate mixture to lighten it.
Scrape the chocolate mixture into the bowl of whites and fold just until combined.
Divide the batter evenly among 6 12- to 16-ounce (or so) oven-proof serving dishes (the batter won't fill the bowl but will leave enough room for ice cream, sauce and almonds).
Place the bowls on a large baking sheet.
(The budini can be prepared up to 2 days ahead to this point, loosely covered and refrigerated.) Bake until the budini are puffed with crusty, deeply cracked tops and a toothpick inserted in the centers comes out quite gooey, 20 to 25 minutes.
(The budini can be completely baked up to a day ahead, cooled, covered and refrigerated. To reheat, bake in a hot, 375°F oven until puffed, about 10 minutes.) Serve within 10 minutes (the puddings will sink as they cool), topping each serving with a scoop of ice cream.
Questions & Replies

Got a question?
Share it with the community!
Reviews
Oh, my Heaven! This is so incredible! Like chocolate souffle, chocolate pudding and flourless chocolate cake all rolled into one! Don't change anything - just follow the recipe exactly. I made it the morning of, then baked while we were eating dinner, so it was still warm when we ate it. Oh- oh- oh- if you are a chocolate lover, this is for you. Agree that coffee ice cream is delicious with it. Definite "impress your friends" dessert. It is certainly going on my list of "impress your friends" recipes...thank you! thank you, LL Bunny! Keep posting recipes - so far everything I've tried of yours is delicious!

 

This is a fabulous dessert and so easy. Since the chocolate is prominent I used Valrhona Le Noir Amer Bittersweet 71%. I made several hours ahead, refrigerated and baked for 30-35 minutes. The recipe makes about 4 cups of batter. I filled four 16 oz cups each about half way. The budini puffed almost to the top and fell back as it cooled. Served with coffee ice cream and toasted almonds. Sort of like an upsidedown hot fudge sundae. The recipe works perfectly as printed.

 

This was beyond incredible! I made this two days ahead of time for a dinner party, and pulled it out about 20 minutes before baking to warm up a bit. I had made some little ganache balls and stuck them in the middles- I was worried that perhaps it was a bit much. They cooked, and rose, and fell in about 25 minutes. I put a cloud of Coldstone Creamery's sweet cream ice cream on top, followed by a nice dollop of their coffee ice cream, and sprinkled with sliced, toasted almonds. As I passed out the dishes amongst murmurings of, "Oh, I'm too full to eat more than a bite...", the noise dwindled to dead silence quickly. There were only the sound of spoons clinking and gooey, ice cream drenched sweetness being devoured. It was amazingly good, and I thought the ganache centers worked perfectly. I can't even begin to thank you enough. These were extraordinary.

 

Very superior dessert. Quite unique although daughter has made a similar one with lemon. We used Scharffen Berger bittersweet 70% but have decided to experiment around a bit in the future.(as far as chocolate goes)I believe Trader Joes has a 70%. Forgot to buy the coffee ice cream but drizzed a little cream on top and it was super! Plan to try Mean Chef's reccomendation recipe.Thanks for a great recipe!