Jack Wax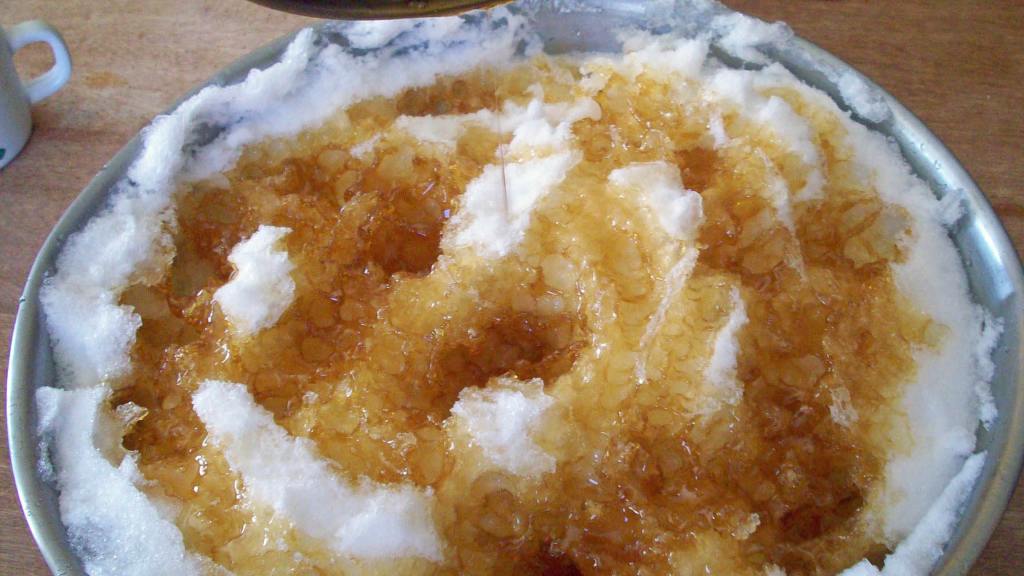 Ready In:

25mins

Ingredients:

2
directions
Fill up a 9X13 cake pan with clean snow, and pack it down.
Heat maple syrup to 230 degrees F. This is the soft ball stage if using a candy thermometer. If you don't have a candy thermometer, let the syrup gently boil for about 20 minutes. (If you don't get the syrup heated to the softball stage, you will end up with jack wax that is more like a slushy (see the picture of the little girl with her hand reaching for the jack wax. If you get it to the softball stage, the syrup will turn to taffy when it hits the snow. Either way taste good -- just different!).
While syrup is hot, slowly pour over snow in a back-and-forth motion. The syrup will turn in to a taffy-like candy, and you can eat it with your fingers.
Join The Conversation
I was just trying to explain "sugaring off" and "jack wax" to a co-worker! I grew up 30 minutes south of Syracuse, NY and spent many snowy days making & eating jack wax with my grandparents...what great memories...ice skating on the frozen creek & ponds then bringing in the metal tub of fresh snow!! Thank you for bringing back such great memories. I am going home and getting out my maple syrup to share this with my kids!

This brought back alot of great memories. I grew up in Rome, NY. I skied at a small place called Woods Valley near Rome. When I was in grade school, the owner of Woods Valley tapped the trees and made Jack Wax at the ski place. It was terrific. I made this for my family. They loved it. Update: Right now we are in the middle of a Noreaster storm. It is snowing like crazy. I just had to make this today. It was great!! We can't do too much today anyway. All the schools are closed.