Ground Beef Roll With Stuffing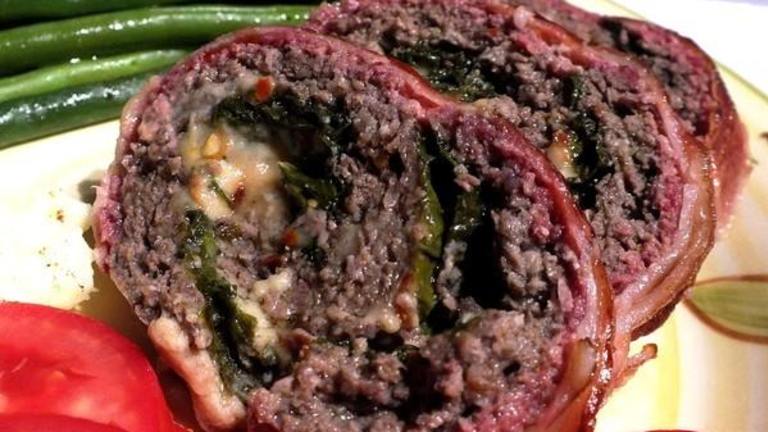 Ground beef (or beef mince as it's known here) makes me despair, yet the price of meat means that we are all faced with boring ground beef for dinner at least once a week. I am so tired of meatballs, patties, spaghetti with mince, lasagne, aaargh! So I created this easy new way. The full demo can be found in the Kitchen Information and Reference Forum. Click on this link to check the method: http://www.food.com/bb/viewtopic.zsp?p=5429364#5429364 . This is quite fun to make, and please note you can use various other fillings such as fried mushrooms or even a row of boiled eggs. You can also use your own trusty ground meat recipe, as long as it's not sloppy, but firm enough to handle. The demo photos are helpful, so I suggest you have a look. We are metric, and although I almost always post in US weights and measures I used metric here with the approx. US equivalent added. [url=http://www.food.com/bb/viewtopic.zsp?p=5429364#5429364]Demo: Ground Beef Roll with Stuffing[/url]
Ready In:

1hr 40mins

Serves:

Units:
ingredients
800

g ground beef (2lbs minus 3 oz, but not important)

1

small onion, finely chopped

3

garlic cloves, finely chopped

15

ml Worcestershire sauce (1 tablespoon)

2

ml ground cloves (about 1/3 teaspoon)

100

ml dried breadcrumbs (about 1/3 cup)

1

large egg

2

teaspoons salt (or to taste)

1

tablespoon dried thyme (or more if fresh)

extra seasoning, dried (to your taste, such as garlic-and-herb)

50 -100

ml milk (about 1/4 - 1/3 cup, see directions)

250

g bacon, streaky (8 oz, the rather fatty strips)

6 -8

leaves swiss chard (the large green chard leaves)
1 1⁄2 cups cheddar cheese, grated (or mozzarella or other cheese)
directions
Oven: 325 - 350 deg F/ 160 - 180 deg C (fan-assisted ovens need lower heat).
In a large pot boil some water. Hold each swiss chard leaf by the stem, and dip into the boiling water to wilt -- about 1 - 2 seconds. Repeat with all the leaves, and lay on kitchen paper to dry.
Put the ground beef in a bowl, and add all the ingredients, mixing in well with a fork, EXCEPT the milk, bacon, chard leaves and cheese.
When well mixed, add a little milk to obtain a soft but firm texture, firm enough to mold by hand. Judge the quantity yourself.
On a square of baking paper pat out the meat mixture to form a neat rectangle, slightly less than 1/2 inch thick -- about 1 cm thick.
Cut out the ribs of the chard leaves, and lay the leaves across the meat, folding them if necessary. You will have at least two layers. You can use more leaves if you like, so the green shows up more clearly when sliced.
Season very lightly with a seasoning salt, and then strew over the grated cheese. Use more if you like.
Using the baking paper roll up the meat carefully from the short end. You should have a neat, firm roll. Cover the roll with the strips of streaky bacon (it does not go underneath). As you work, cover the open "seam" at the side by pressing the bacon strips over it, and tucking them in slightly.
With your hands, carefully remove the roll to a suitable oven dish -- with sides, because fat will run out which you could drain off when the roll is done.
Oven temperature depends on your oven: I prefer the far-assisted (convection) setting on my oven, which is very hot (or so it seems). So I bake this roll at 160 deg Celsius Bake for about 1 - 1 1/4 hours, until the bacon is golden brown.
Drain off fat. The roll should wait a little before you slice it, but keep warm. Serve with side veggies and salad, and gravy if you like.
Submit a Recipe Correction
RECIPE MADE WITH LOVE BY
"Ground beef (or beef mince as it's known here) makes me despair, yet the price of meat means that we are all faced with boring ground beef for dinner at least once a week. I am so tired of meatballs, patties, spaghetti with mince, lasagne, aaargh! So I created this easy new way. The full demo can be found in the Kitchen Information and Reference Forum. Click on this link to check the method: http://www.food.com/bb/viewtopic.zsp?p=5429364#5429364 . This is quite fun to make, and please note you can use various other fillings such as fried mushrooms or even a row of boiled eggs. You can also use your own trusty ground meat recipe, as long as it's not sloppy, but firm enough to handle. The demo photos are helpful, so I suggest you have a look. We are metric, and although I almost always post in US weights and measures I used metric here with the approx. US equivalent added. [url=http://www.food.com/bb/viewtopic.zsp?p=5429364#5429364]Demo: Ground Beef Roll with Stuffing[/url]"
This is such a fun way to make a meatloaf, and it really does not take that much more time. I did have some technical issues (and Mr Grumpy kept poking at the chard and asking what the heck it was). I made a smaller one due to oven limitations, maybe 1 1/4 lb or so of meat, and I improvised the precise list of ingredients for it. I creased the parchment paper to indicate the maximum width (with two straight sides made like this, it's easy to square off the other two), but should make it narrower next time. My rectangle ended up closer to square, and so I did not quite get enough of a roll to the loaf, if that makes sense, so that it did not seal enough. I used the chard, several cheeses and some fresh and rehydrated mixed mushrooms. The bacon did not finish cooking in the time I needed for the roll to cook through - about 45 minutes - so I fried them off in the pan. I would probably omit the bacon next time, as I prefer a crustier exterior. Also, the chard was still rather "firm" and a bit hard to cut through - I had very big leaves, perhaps more mature. I'd cut them into smaller pieces next time. I made a gravy with some additional mushrooms to top the meatloaf and mashed potatoes, and it was quite a success.

Ground beef (or beef mince as it's known here) makes me despair, yet the price of meat means that we are all faced with boring ground beef for dinner at least once a week. I am so tired of meatballs, patties, spaghetti with mince, lasagne, aaargh! So I created this easy new way. The full demo can be found in the Kitchen Information and Reference Forum. Click on this link to check the method: http://www.food.com/bb/viewtopic.zsp?p=5429364#5429364 . This is quite fun to make, and please note you can use various other fillings such as fried mushrooms or even a row of boiled eggs. You can also use your own trusty ground meat recipe, as long as it's not sloppy, but firm enough to handle. The demo photos are helpful, so I suggest you have a look. We are metric, and although I almost always post in US weights and measures I used metric here with the approx. US equivalent added. [url=http://www.food.com/bb/viewtopic.zsp?p=5429364#5429364]Demo: Ground Beef Roll with Stuffing[/url]