Fruited Nut Bars (Biscotti)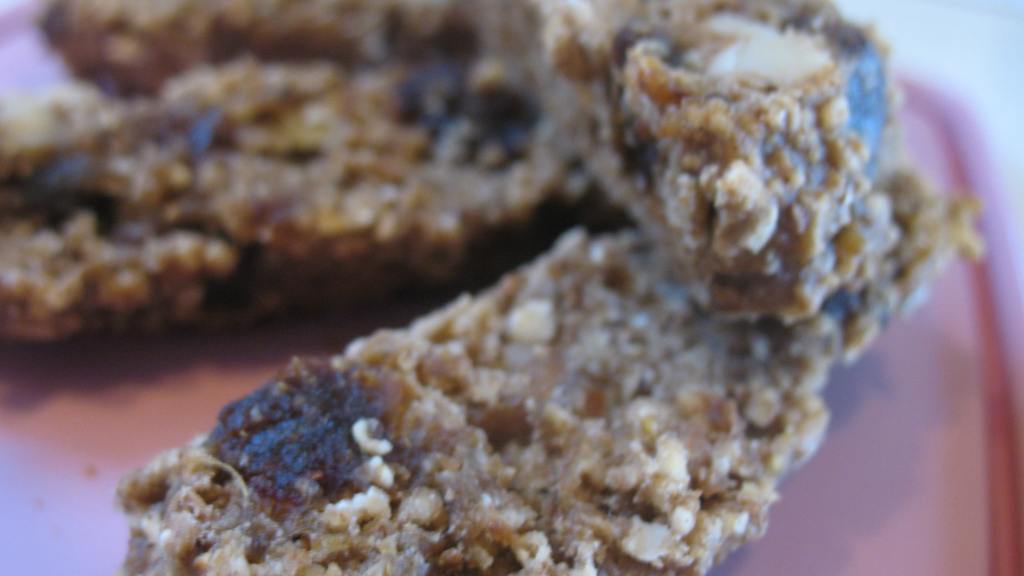 Ready In:

1hr 5mins

Ingredients:

13
directions
Preheat oven to 325°F
Place nuts on a baking sheet in a single layer. Bake nuts for 8 to 10 minutes, until golden brown and aromatic. Remove from oven and let cool. Chop into hearty sized pieces.
Cream butter and sugar in a large mixing bowl until light and creamy. Add in vanilla extract and eggs.
In a separate bowl sift together the flour, baking powder and spices
In a third bowl, sprinkle a tablespoon of the flour mixture on top of the dried fruit and mix together. (This helps to keep the fruit from clinging together in a lump).
Combine the rest of the flour into the butter, sugar and eggs. Fold in the fruit and nuts by hand.
Divide the dough into two.
On a greased, sprayed or lined cookie sheet place half the dough spreading out into a log 1/2 inch high, 1 1/2 inches wide and about 14 inches long. (Keep your ends a little squared off so you don't have itty bitty dried cookies from the end.) Repeat with second log allowing space between for the two logs to expand.
Bake in the middle section of the oven for 25 minutes or until lightly browned (also at 325 degrees). Let sit for a minute then remove to a rack for 5 minutes.
Place logs on cutting board and using a serrated knife cut log into 1/2 inch pieces at a slight (45 degree) angle. Place the slices back onto the cookie sheet cut side up. Bake an additional 10 minutes.
Allow cookies to completely cool before storing in a tightly covered tin. Stored well biscotti will last for a week or two.