Fast oven roasted potatoes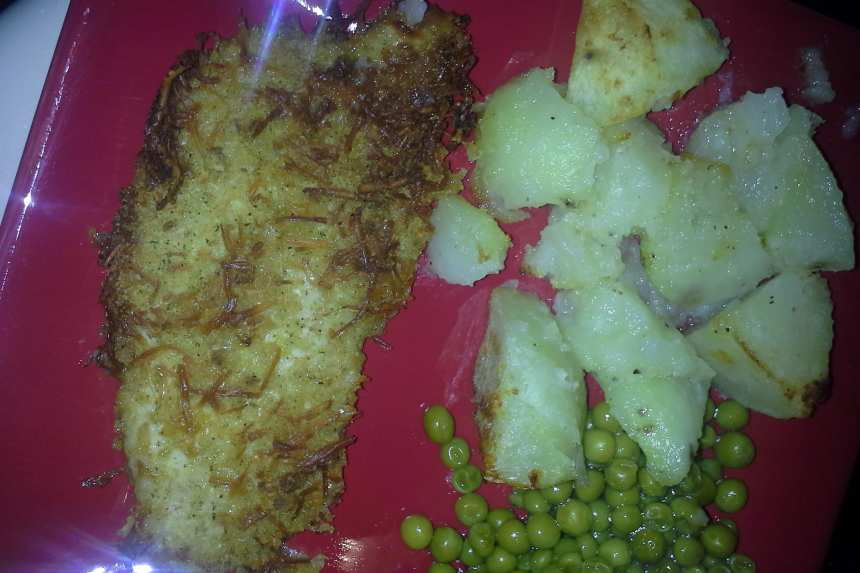 photo by rachelfortuna

Ready In:

30mins

Ingredients:

4
directions
Peel and quarter potatoes.
(If using reds that are blemish free, skins can be left on).
Place in microwavable bowl, with water.
Cover.
Microwave on high for 6 minutes.
Stir.
Microwave 5 more minutes.
(Potatoes may still be a little hard, that is okay) Drain.
Place in 8 x 8 oven baking dish.
Pour margarine over potatoes.
Place directly under broiler.
Broil until tops start to brown slightly all over.
(Approx. 6 minutes) Turn potatoes and broil until lightly golden on other side.
Remove and serve with salt and pepper.
Questions & Replies

Got a question?
Share it with the community!
Reviews
So easy and just perfect! I scrubbed the russet potatoes and left the skin on. I added minced onion, minced garlic, and dried crushed rosemary to the stick of butter that I microwaved and poured over the microwaved potatoes before broiling. I salted the potatoes after roasting. The outside was crispy, and the inside was melt in your mouth delicious. These potatoes were better than the ones I roasted traditionally (sans microwave).

 

This recipe saved my butt tonight. I was in a pinch and just barely made it home in time to get the chicken in the oven. There was no way I was going to have the typical hour to roast potatoes and this recipe made to happen! Easy microwave trick that I am sure to use again and again. Instead of salt and pepper, I used garlic salt and parsley flakes. I tried the olive oil at first, but adding the margarine (we used the canola blend butter-like stuff) was a noticeable improvement over the olive oil. Then we really went to town and added a sprinkle of Pecorino Romano cheese. My fiancé has already asked for these regularly. Thanks for this recipe!

 

Have been doing my potatoes this way for years when I am in a hurry. Had never thought to post LOL. To make them lower in fat I just spray them with a fine mist of olive oil before putting under the broiler. Thanks for posting as I am sure there will be lots of others only to happy to have this recipe. :) Jenny

 
RECIPE SUBMITTED BY
After being Milwaukee, Wi. residents all of our lives, my husband and I retired to the Lake of the Ozark area in central Missouri, two years ago. The "Lake" as everyone in Missouri calls it, is located in the heart of the Missouri Ozarks. The area is just beautiful, and the people are so friendly. We have made so many new friends, and they have welcomed us into their lives. Even a trip to Walmart, brings smiles from everyone. Every day we take in a lake sunset, or look at the beauty around us, and are so happy we made the move. The winters are so much milder than the harsh ones, we left behind in Wisoonsin. Though, we have had to learn to deal with black ice. Spring comes early and is just beautiful. We still run away to Northern Wisconsin for the cooler summers, and quiet northwoods, as tourism here during the summer months, can put as many as 50,000 boats a weekend on our 92 mile long lake, and northern Wisconsin is peaceful and beautiful. I really miss having a garden, but it is almost impossible, as we are gone for the summer, and the ground here is all bedrock. I try to put some things in up north, but the growing season, sometimes shuts me down as early as mid August, in northern Wisconsin. We do miss the good Wisconsin fish fries, and the better quality of beef, available in the stores. You can find Amana and Black Angus beef in most stores, but it doesn't even compare to the plain old choice beef we got back home. One butcher, told me there are different grades of Angus. Makes you need to re-think your cooking. People here, will have a really dry piece of meat, and say its great. The entire area is very big on BBQ foods, and some are outstanding, but some of the other local fare, just isn't up to Midwest standards. We miss some of the good Italian and German places back home, and a really good, thick, juicy steak, but we easily trade that away, for having the chance to live in such a wonderful area. I still love the Old Red Betty Crocker cookbook, and Taste of Home Magazine, but have to admit, that since I joined Recipezaar years back, most of my new favorites come from there. There are some great chefs on this site, and sometimes, I read a review, where someone will try a recipe, and completely change it, and then complain, that the recipe was not right, and give it a low rating. This is a pet peeve. If you make it the way it was printed, and don't like it, okay, that is understandable, but if you change it, don't blame the chef. My biggest fear is that Recipezaar will disappear one day, and all of my favorites will be gone.
View Full Profile