Crab Cakes from Maryland Governor's Kitchen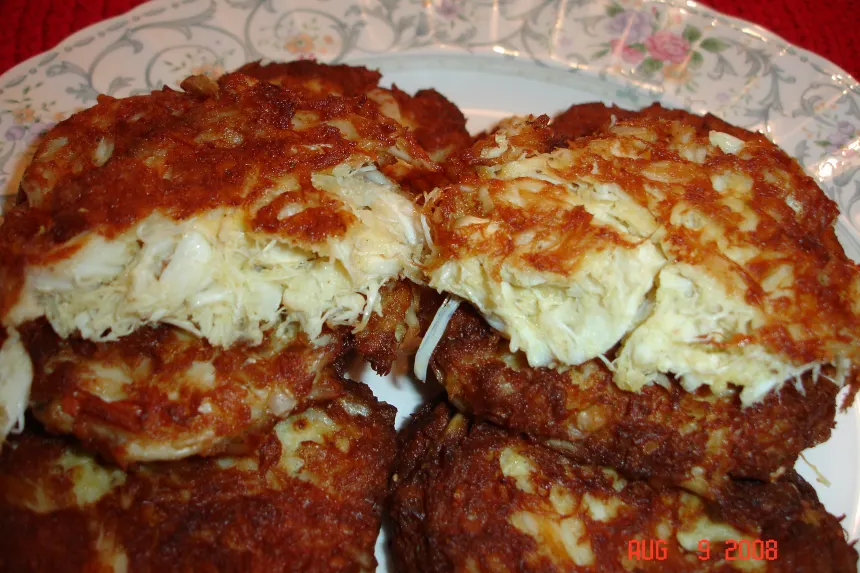 photo by racrgal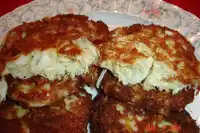 Ready In:

1hr 6mins

Ingredients:

7

Serves:

4-6
ingredients
1

lb crabmeat, picked clean

1⁄4

cup saltine crumbs, about 5-6 crackers

2

tablespoons mayonnaise

1

tablespoon mustard

1

teaspoon Old Bay Seasoning (optional)

2

egg whites, beaten stiff

1⁄2 cup canola oil, up to 1 cup to reach 1/4-inch oil in pan
directions
Pick through crab meat twice to remove cartilage or shell. Try not to break up lumps of Backfin. Keep crabmeat chilled during process by putting ice cubes in a large mixing bowl then placing a slightly smaller bowl inside to hold the picked meat. After the first picking, feel for missed cartilage while returning crab meat to the crab meat container. Chill crab meat until ready to mix.
Put saltine crackers in a mini-food processor and process to a fine crumb. Alternatively, tear slices of bread into small pieces and put in mixing bowl.
Add regular mayonnaise and yellow mustard to mixing bowl. For the Eastern Shore purists, the addition of Old Bay seasoning is controversial, but Baltimore residents won't call it a crab cake without some; one teaspoon adds a subtle taste.
Beat egg whites until stiff, then fold into filler mixture.
Gently fold in reserved crab meat.
Make 4 to 6 cakes, pressed gently together. Chill covered in refrigerator for at least 1 hour to set cakes.
Fill frying pan to 1/4-inch with canola oil. Heat canola oil to 360 degrees Fahrenheit. Gently place crab cakes in oil and fry for 2-3 minutes until golden brown. Use spatula (and fork, if necessary) to carefully turn crab cakes. Fry for another 2-3 minutes.
Drain oil from crab cakes on paper towels, then serve hot with some saltine crackers on the side.
TO BROIL: Since these crab cakes have the minimum amount of filler required to hold them together, you may broil them on a lightly oiled baking sheet (1 tablespoon oil) 4-6 inches away from the heat source until golden brown. If you use low-calorie mayonnaise, this would be the preferred way to cook the cakes.
TO MICROWAVE: Only use 1/2 tablespoon of oil to brush on a large flat plate. Microwave plate for 2 minutes on HIGH to heat oil. Place cakes on plate and microwave for 7 minutes on HIGH.
Questions & Replies

Got a question?
Share it with the community!
Reviews
i have been a professional chef for 30 years, and this has become one of my no-brainer go to recipes because i find it to be excellent, easy, and always gets a very good response from anyone i serve them to. i choose to leave out the Old Bay seasoning and i substitute some good powdered mustard and a good sweet paprika. i have a small deep fryer in my home kitchen so i choose to deep fry them. (i know that frying them in a stell skillet will impart a different flavor, but i like the uniformity and convenience deep frying affords me, especially if cooking for a dinner party.) i mold them in a stainless steel ring to get a nice uniform cake that is sealed around the edges. i set the fryer at 340 F, and cook them for 4 minutes turning them over at the 2 minute mark. i ofund that a higher temperature cooks them a bit too fast and the outside reaches peak color but the inside needs a bit more tome to cook them through. immediately after removing them from the fryer i season them again with a bit of good sea salt and serve them with with lemon wedges and either a home made tartar sauce, roasted garlic aioli, or a tomato and horseradish based cocktail sauce. sometimes i just put a dish of each on the table so my guests can choose.another tip for making handling the cakes easier before frying is to stretch a piece of food film wrap across a plate tightly and place the cakes on that. this makes it very easy to slide them off of the plate they are chilling on, and into my hand so i can gently place them in the fry basket or into the skillet when pan frying them. sometimes i serve them with a side of fried green tomatoes and pickled corn relish set on a garnish of mesclun salad. i have also eaten them on a butter grilled bun with a layer of coleslaw and moistened with tartar sauce, the side dish is either homemade onion rings or hand cut french fries.

 

I did cut the recipe in half for just the 2 of us, & making them this first time was more of a trial thing than anything else! We weren't disappointed at all ~ They were tasty & most satisfying, & now I look forward to having them again as a main dish! I'd also like to make them a bit smaller & serve them up as finger food for one of the monthly groups I host! Thanks so much for the recipe! [Tagged & made in Please Review My Recipe]