Classic Risotto (Plus Tips for Perfect Risotto)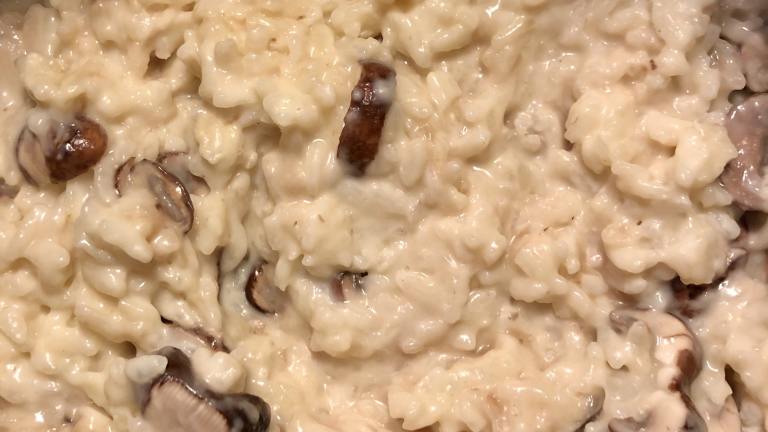 Creamy and yummy! Best when served immediately as it continues to thicken. You want it "saucy". Stir in additions such as asparagus, peas, cooked shellfish, ham or mushrooms at the end for a hearty, delicious risotto. From www.usarice.com
Ready In:

40mins

Serves:

Units:
Nutrition Information
directions
Heat water and broth in 2-quart saucepan over medium heat until it comes to a simmer. Reduce heat to low and keep warm.
Meanwhile, melt 2 tbsp butter in large saucepan over medium heat; add onion and cook until soft. Add rice and stir for 2 to 3 minutes. Add wine; stir until absorbed.
Increase heat to medium-high; stir in 1 cup water-broth mixture. Cook uncovered, stirring frequently, until liquid is absorbed. Continue stirring and adding remaining water-broth mixture, 1 cup at a time, allowing each cup to be absorbed before adding another.
Cook for approximately 25 to 30 minutes or until rice is tender and mixture has a creamy consistency.
Stir in cream, cheese, tomatoes, salt, pepper and remaining butter. Stir until mixture is creamy, about 2 minutes.
Serve immediately. Makes 6 servings.

10 TIPS FOR PERFECT RISOTTO FROM USA RICE:

•Choose the right rice. Risotto is best with U.S. Arborio or medium grain rice. The starch in these grains absorbs flavors easily and takes on a creamy texture.
•Use a heavy pan with a thick bottom and sides to help distribute heat evenly. Make sure it's large enough to hold the cooked rice. The rice will expand to about three times its original volume.
•Don't rinse the rice. This removes the starch which gives risotto its wonderful creamy consistency.
•Sauté the rice in butter or oil. This coats each grain, allowing the rice to slowly absorb moisture and resulting in a creamier risotto.
•Use a simple, dry white wine. Sauvignon Blanc or Chardonnay always works well in risotto recipes. Risotto dishes also pair well with these wines.
•Keep the broth at a simmer when adding to the rice. Hot broth keeps the temperature at a more constant level, ensuring even and continuous cooking.
•Add broth one cup at a time, allowing the broth to fully absorb before adding more. The gradual addition of broth and slow cooking helps produce creamy risotto.
•Stir often. This keeps the grains in contact with the liquid for even cooking, prevents the rice from sticking to the bottom of the pan, and helps to develop a creamy consistency.
•Get creative! Stir in additions such as asparagus, peas, cooked shellfish, ham or mushrooms at the end for a hearty, delicious risotto.
•Risotto is done when the rice is al dente -- creamy, yet firm in the center. Never let rice dry out when making risotto. For a creamy texture, the rice should always -- from start to finish -- be kept under a "veil" of broth.
Submit a Recipe Correction
RECIPE MADE WITH LOVE BY
"Creamy and yummy! Best when served immediately as it continues to thicken. You want it "saucy". Stir in additions such as asparagus, peas, cooked shellfish, ham or mushrooms at the end for a hearty, delicious risotto. From www.usarice.com"
Join The Conversation
An excellent basic risotto that could be amended with many different ingredients. I made only some very minor changes - added a pinch of salt when sweating the onion, added a cup of water to a four cup box of chicken stock to make the five cups of broth/water mix, and didn't add any additional salt and pepper at the end. I used the risotto as a base which I topped with shrimp scampi. The combination of flavors was remarkable. Thank you.

I have never tried to make risotto before. Excellent recipe, excellent tips! This could become addictive! I made 1/2 the recipe and hubby and I both wanted more! (I think I will mostly make it as a main dish; the almost constant attention it requires is really nothing difficult, unless you have 3 other dishes to deal with!) At the end, I added about 3/4 cup roasted asparagus and 3/4 cup diced ham. Delicious!!