Chicken Scaloppine With Lemon Glaze (Low Fat and Delicious!)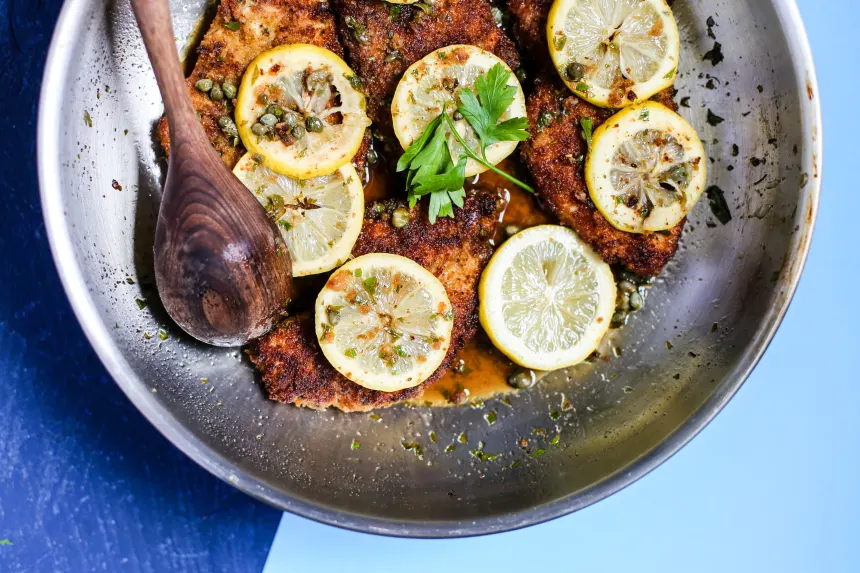 photo by Ashley Cuoco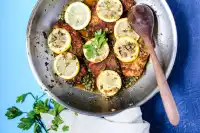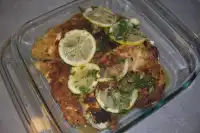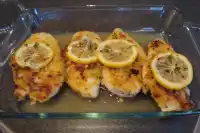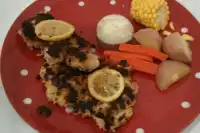 Ready In:

35mins

Ingredients:

13
directions
In a small bowl or shallow dish whisk together mustard and eggs; set aside.
Combine the dry bread crumbs with poultry seasoning, garlic powder and seasoning salt; spread on a piece of waxed paper.
Dip the breasts firstly in egg/mustard mixture (shake off any excess egg) then coat well with the crumb mixture, pressing downs with hands to adhear the crumbs to the breast.
Heat the olive oil in a skillet over medium heat.
Add in the chicken and cook for about 5 minutes on each side, or until it is no longer pink inside; remove and transfer to a plate to keep warm.
For the glaze; in the same skillet add in the broth, lemon juice and 1/4 teaspoon salt (or to taste, if using capers add in now) bring to a boil scraping any brown bits from the pan.
Add in lemon slices and parsley; mix to combine for about 1 minute.
Spoon the glaze/sauce over chicken.
Delicious!
Questions & Replies

Got a question?
Share it with the community!
Reviews
Really, really tasty. I implemented some of the (minor) tweaks suggested, all of which I recommend: I used panko crumbs, doubled the sauce, thickened with some cornstarch & water, and added capers. Definitely easy to make but notwithstanding how easy it was, I'd say it's company worthy. I'm a big fan of this recipe.

 

Lovely! I used panko instead of breadcrumbs and loved the crunch that it gave. Took your advice and doubled the sauce and added 2 Tbsp capers, the capers added a lot to this dish and I'm very glad I doubled the glaze. Thanks for another healthier alternative Kittencal, I didn't miss the butter in this at all as so many similar versions have.

 

FANTASTIC! Made this chicken last night for 7 of my family & friends & it was a huge hit! Everyone called today still raving & asking the recipe. At first tasting the lemon glaze I thought yikes its so tart it may be too much but it was perfect. I used all natural chicken breasts & they cut with a spoon they were so tender. The mustard adds taste texture & holds the bread crumbs (used Italian more added flavor). Also used capers which adds depth to the dish. Beware I made quite a bit extra chicken thinking I would have leftovers for the week...not so people were pigging out...so be sure to make more than you think you might need!

 

This was absolutely delicious. I used leftover chickpea chips instead of breadcrumbs because I am gluten-free and try to avoid wheat and corn-based products. Next time I will grind them up finer in my food processor now that I know I like the taste. I agree, I will double the sauce next time as well because there was hardly any left in the pan to pour over the chicken after I cooked it. That may be because I "halved" the recipe for two chicken breasts, however. Pretty easy to make. I especially like that it mostly uses ingredients I already have in the kitchen and pantry as opposed to having to shop for a bunch of things. Will definitely add this to the rotation of dishes i will cook again. Thank you!

 
Tweaks
Very tasty. However, I used Better than Bouillon Chicken base - as it has no MSG and I also used Mrs. Dash Original Seasoning in place of the seasoning Salt - which is notorious for having MSG - where Mrs. Dash does not and I like the added flavors of the additional spices. Also - I baked in it my NuWave Air Fryer for 10 minutes instead of frying it a skillet. I did however follow the other reviewers suggestions and doubled the sauce. Served it over mashed potatoes and it was a big hit. Will definitely make this again.

 

What a great treat! Too bad I didn't follow the other recommendations and double the sauce ... that's a must, in my opinion. We all loved it and this will definitely go in my 'be sure to make again' book. I did omit the capers, however. I was afraid that it might deter some of the family, but I will probably try with the capers at some future time. Thanks for a GREAT recipe! Updated 5/30/10 -- I sometimes substitute white wine for the chicken broth ... that also works great.

 

This was great, although I changed it a lot (simply due to laziness and alternate ingredient availability). I didn't have capers, so I left them out. I used boneless skinless chicken thighs instead of breasts, and I didn't fry. I think the Dijon mustard with the egg is the secret! I prepared the chicken per the instructions and baked at 400 degrees, after first drizzling the bottom of the pan and the tops of the chicken with a little olive oil. I made the sauce in a small saucepan on the stove, using a little garlic-infused olive oil to mimic the pan method. My husband gobbled it up last night, and he took leftovers for lunch. He just sent me a text that said, "I could eat this all day!" Great recipe, will make again!

 

WOW. Just, Wow. I made this with vegetarian chik'n (Quorn brand, it's almost exactly like chicken in taste and texture) and it was delicious! I made some changes besides that: I used an egg white instead of a whole egg (to cut calories and cholesterol), I didn't have poultry seasoning so I used some other spices instead (same ones in the store bought mix), and instead of chicken broth I used veggie. The glaze was WAYYY too salty, so I added some water and sugar to balance the flavor along with some cornstarch dissolved in water. I will DEFINITELY be making this again and sharing this recipe with my vegetarian friends. Thanks, KittenCal!!