Romano's Macaroni Grill Chicken Scaloppine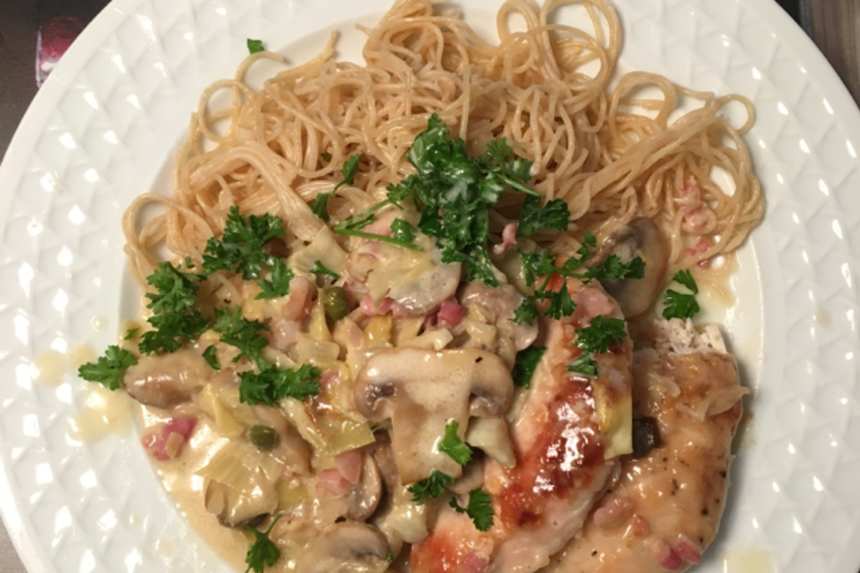 photo by Anonymous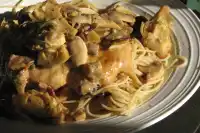 Ready In:

50mins

Ingredients:

14
directions
To make the sauce:

Heat the lemon juice and white wine in a saucepan over medium heat.
Bring to a boil and reduce by one-third.
Add cream and simmer until mixture thickens (3 to 4 minutes).
Slowly add butter until completely incorporated.
Season with salt and pepper.
Remove from heat and keep warm.

To make chicken and pasta:

Cook pasta and drain.
Heat a small amount of oil and two tablespoons butter in a large skillet.
Dredge chicken in flour and saute in pan, turning once, until brown and cooked through.
Remove chicken from pan.
Add remaining ingredients to pan.
Heat until mushrooms soften and are cooked. Add chicken back to pan.

To serve:

Place cooked pasta on each plate.
Add half of butter sauce to chicken mixture and toss.
Taste and adjust. Add more sauce if needed.
Place chicken mixture over pasta.
Add a little more sauce to each.
Garnish with parsley.
Reviews
While I've never been to Macaroni Grill, this recipe deserves all the 5 star reviews it's gotten and more. While it was a little involved to make the end result was more than worth it. I did make a few minor adjustments made on other reviewers comments and personal preferance but not enough to really change the recipe much and feel it'd be just as good as directed. Cut the recipe in half for me and DH, my chicken breasts were really large so pounded them thin to make sure they would cook through, added onion and garlic to the saute and when mixing an extra tablespoon of capers as we just love them and wanted to really taste them. Also, a larger adjustment was that I just could NOT bring myself to make this with a full pound of butter and serve to my family so cut that in half - thinking if it didn't thicken I'd just use some corn starch. Well, not a problem - it still turned out wonderful and DH is already asking if there's any left overs. This is truly a company worthy dish that I'd be proud to serve.

 

This sauce is a modern rendition of Julia Child's Buerre Blanc sauce. The acidic base of the reduced lemon and wine is what helps hold the butter in suspension. Now days we add cream to stabilize it and make it easier on us. Don't microwave it to rewarm it. It breaks down. Reheat gently and wisk till smooth. If it becomes broken (butter separates from lemon/wine base) you can fix it by heating it and wisking in a bit more !!BUTTER!! If you reduce the butter in the recipe your sauce will be much more acidic. Yes it is rich. But it is intense, and you don't need much. (I know you want to dunk your bread in it, but try to resist.)

 

We had this last night for dinner. We did do a couple things different. After we cooked the chicken we went ahead and cut it into pieces just for easier consumption. Also, the next time we make it, we may cut the lemon requirement down by a quarter. We couldn't find panchetta so we used a cured country ham instead and it worked just fine! It still had that same salty taste. We didn't want to use bacon since it has a distinct flavor of its own and in my opinion in tends to overpower. This is my favorite dish at MG and I was ecstatic to have it at home! We will be making this over and over again!

 

So I made this recipe during our kitchen renovation...meaning I did it in my backyard on a couple of hot plates that thankfully work really well. Was it easy doing it this way? No but the end result was so worth it... and once again we didn't have to eat out which is my main goal during our renovation. Tweaks: 1 stick of butter for the sauce. I used fresh squeezed lemon (3) and probably doubled the white wine for the reduction sauce. Added fresh chopped garlic to saute with pancetta and thinly sliced red onion (that's all I had) for the veg saute. I have to say this was so scrumptious!

 
Tweaks
I used 1 1/2 sticks of butter after reading previous comments that stated too much butter so I cut it down. I used an entire small bottle of capers and same thing with the artichoke hearts. Instead of chicken breast I used breast cutlets and cut into bite-size pieces. I also sprinkled garlic salt on the chicken while cooking it. Garlic makes everything better!! Angel hair pasta for lighter texture was used. AMAZING AND EASY

 

I am a HUGE Mac Grill Chicken Scallopini fan. This was the first recipe I have tried in my quest to copy the dish, and I have to say that I loved it!!! I did use the whole lb. of butter to make the sauce, and the recipe is perfect. Make certain that you let the wine and lemon juice reduce by 1/3 before adding the cream. I substituted a light cream for the heavy cream, because it made me feel better about using an entire lb. of butter! lol!! As well, I couldn't find Pancetta (Italian Bacon) so I subsituted Prosciutto (Italian Ham). The prosciutto is not as fatty, so I cooked it in a tablespoon of olive oil. Because I knew we could not eat all of the recipe in one sitting, I did not mix the sauce with the chicken mix and vegetables, but rather placed them in separate dishes for each guest to assemble on his plate. For left-overs the next day I simply reheated the sauce alone in a small pan, on low heat. The microwave does tend to separate the sauce and can not be used to reheat very well. The pan reheat, however, turned out great. Good luck and Happy Cooking!