Candy Gumdrops (Fat Free)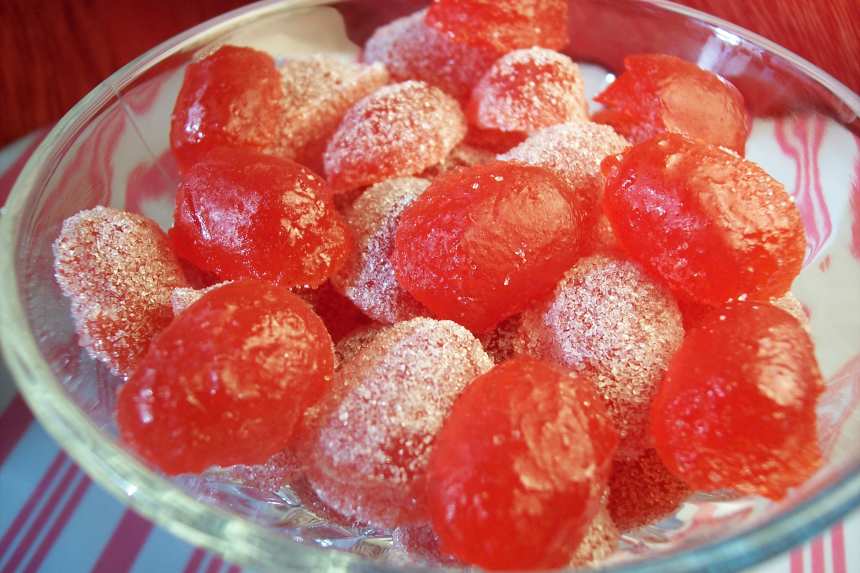 photo by Ratalouille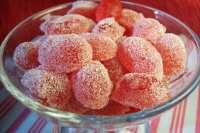 Ready In:

24hrs

Ingredients:

6
directions
In a saucepan, combine the applesauce, unflavored gelatin, the Jello powder, sugar and the 1 tsp lemon juice; bring to a boil then boil for 1 minute stirring frequently.
Fill a loaf pan up with very cold water and then pour the water out of the pan, immediately pour the gelatin mixture into the wet pan.
Allow the loaf pan to cool for 10 minutes and then put it in the refrigerator for about 3 hours or until gelatin is firm.
To remove the candy out of the pan turn the pan upside down and lay a warm wet towel on the pan (this will "melt" the sugar just a bit, and the gumdrop loaf will pop right out).
If desired before cutting them you may place the gumdrop loaf back in the fridge to harden further before slicing into small pieces (this is not really necessary but will aid in cutting them better) remove from fridge and cut the candy into very small squares (here's a tip, when cutting the candy into small squares dip the knife into warm water to avoid the candy from sticking to the knife).
Transfer the small pieces onto an ungreased cookie sheet.
Allow to dry (at room temperature) for at least 8 hours.
After the candy has dried pour some sugar into a bowl then coat the candy pieces in the sugar.
Questions & Replies

Got a question?
Share it with the community!
Reviews
well, i'm in the process of making these for my dad as he loves gum drops. although he is diabetic so i changed it, I used 3 unflavored gelatin packs and a cherry kool aid pack instead of the jello.( I get the flavor of what a jello would bring with out the sugar and or art.sweetner,,,I can add my own sweetner) Unsweetened applesauce, and I added a little stevia to sweeten it. didnt have to add much though as the applesauce did plenty. I forgot the lemon juice until after,,,, hope it isnt used to keep it from going bad : ) I would like to try it with a mint extract and green food coloring for those spice drops,,, he loves those. but this was a great idea thank you so much for sharing.

 

These were so fun to make!!! I used a "jell-o bean" mold, made by Jell-o Brand. I used a strawberry daiquiri flavored jello and cinnamon spice apple sauce. I rolled some in sugar and left some plain. I prefer the plain ones, as they are quite sweet. I may cut down on the sugar next time. I also found that if you leave them to dry overnight, the sugar doesn't stick as well. After popping them out of the mold, I let them sit for about 2 hours, then rolled them in sugar. YUM!

 

This is a great idea for homemade candy. I only had orange flavoured Jello (store brand) - I think next time I would try it with strawberry or cherry. I also made it in a 8x8 inch pan however I had to cut it out with a knife as the warm towel on top didn't seem to work for me (maybe I was just too impatient). Thanks for sharing!

 

Wow! I can't believe I made gumdrops! This is a really fun recipe. I used an 8" square pan. I let them dry for about 9 hours, and then rolled them in sugar. The trick to getting them off the cookie sheet is to use a knife, and dip it and your fingers in warm water. These don't end up being as dense as gumdrops you'd buy at the store. They have a more jellylike consistency, but they hold up just fine. I might try adding less applesauce next time I make it to see if that would make them more like store bought. I used strawberry store brand jello (not sugar free), and the flavor is really nice. I made these as a belated birthday present for my stepdad, so I hope he likes them! Update: my stepdad really liked these, he especially liked that they don't get stuck in your teeth like regular gumdrops, they kinda melt in your mouth. I plan on making raspberry and lime ones for Christmas to go with the cookies I bake to give as presents.