Better Than Olive Garden Alfredo Sauce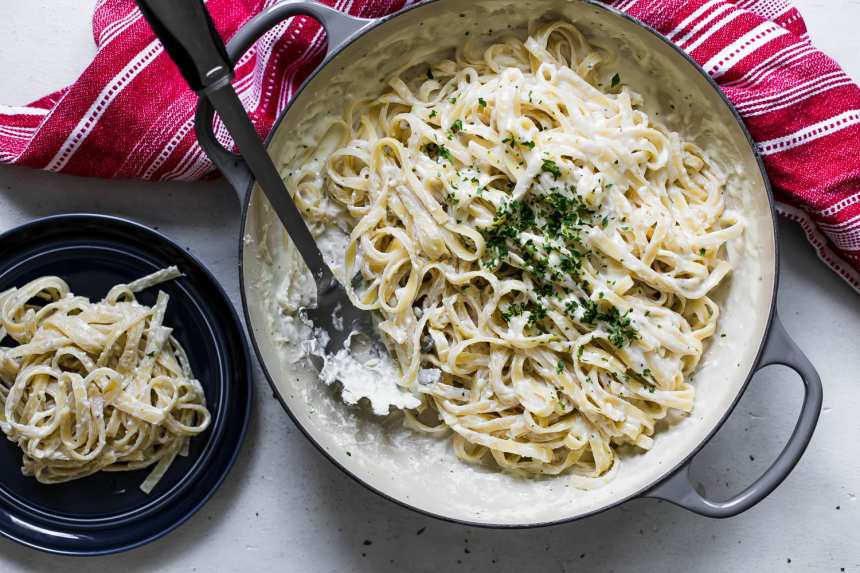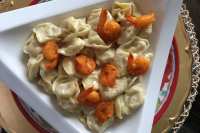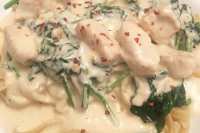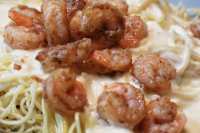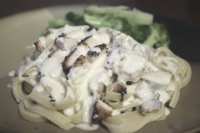 Ready In:

25mins

Ingredients:

10
directions
Melt butter in medium saucepan with olive oil over medium/low heat.
Add the garlic, cream, white pepper and bring mixture to a simmer.
Stir often.
Add the Parmesan cheese and simmer sauce for 8-10 minutes or until sauce has thickened and is smooth.
When sauce has thickened add the Mozzarella cheese and stir until smooth. STIR FREQUENTLY.
While the sauce cooks, boil noodles for 3-5 minutes.
Place pasta on serving plates and spoon sauce over pasta.
Garnish with parsley, freshly cracked black pepper and more grated parmesan (optional).
Questions & Replies

I'm Parker's mom and somehow I can't get back into my account . I just want to tell each and everyone of you just how thankful I am for all of the kind reviews . Omg I love all of these suggestions . Thanks again for the kindness each of you have . *** Y'all also that Italian 5 cheese Italian blend would be absolutely amazing sprinkled over the top of your pasta

 
Tweaks
I want to thank each of you for giving my recipe a review, the good and the bad . I do wanna say that I your not big on the texture issues with the grated Parmesan cheese, I would use freshly shredded Parmesan. My family enjoys tasing the grated cheese in it so that's why I chose to add the grated vs the shredded . Also know that when you heat up your left overs the next day, it solidifies once cold but as soon as you heat it up it will be better than it was the day before . I wish I could go in and edit the recipe with these notes so future cooks that wanna try the recipe out will know the grated vs shredded Parmesan could be a deal breaker on this recipe . I hate to see anybody try out one of my recipes and be so disappointed and waste there money on it. But I do believe it all comes down to what your texture prefrance is registering the cheese .

 

Very close to my recipe less a few tweaks - I start with a small amount of olive oil and butter, the sauté about 4 garlic cloves for a few minutes, meanwhile adding a few shakes of nutmeg and cayenne pepper as well as the white pepper. - after sautéing deglaze the pan with a healthy slplash of whatever white wine you have open. I use about 1/4 cup, sometimes more. It doesn't matter if you overpour because I then reduce it, only takes a few minutes, until it's a thicker mixture. Then I add more butter, using almost a full stick, meat and add a couple tablespoons of flour creating a roux. This helps thicken the sauce when comple ant stick to the noodles. Stir and cook that for about a minute to cook out the flour, then stir in your cream (I use 1 pint of cream and 1 pint 1/2&1/2). - After the cream mixture is hot slowly add the freshly grated PAMRESAN REGIANNO (while a little speedy this cheese makes all the difference for a creamy texture). I use Romano cheese also, I've never tried mozzarella but I think I might in the next batch. Because of high moisture in mozzarella this might create a separation issue when reheating. - to help prevent separation when re-heating mix up 2 egg yolks in a bowl, slowly adding sauce as you mix to about a 1:1 ratio. If you add the yolk directly to the pot you may cook your eggs. Add the blended mixture to the pot and stir it it in, then simmer. Not only does this help prevent separation when reheating but it's adds a nice richness to the sauce. - Simmering and stirring is key, just until it almost creates its first bubble, then lower the heat.

 

notice how your sauce doesn't stick to the noodles quite like restaurants'? Boil your noodles until they are al dente or slightly above. Take the amount of noodles are want to serve immediately, put them in skillet with the sauce and cook on med-high for 2-5 minutes. Wait to add the mozzarella until nearly the end. Your noodles and sauce will thicken together and it will look professional. You want the mozzarella to be melted, but not completely dissolved in the sauce. That way you can taste the cheese and it's not completely blended in. Also, salt the sauce when its sautee'ing with the noodles. Enjoy! .................................................................................................................................................................Notes: 1) No need to add more butter because you are using heavy whipping cream. Your fat content will be sufficient and adding more will make it heavier without adding taste. 2) When I sautee the noodles and sauce at the end, I like to throw in crab meat and Gorgonzola cheese a minute or two before its done. 3) If you wanna get fancy, reduce a cup of white wine down into maybe a quarter cup. Add that to the cream when you are reducing it. Reduce cream as usual. This will add a complexity to the sauce and will work well with the white pepper (which is my secret ingredient)

 
RECIPE SUBMITTED BY
I am from South Alabama and love good country cooking but I also love to serve impressive elegant dishes as well. I am the wife of a wonderful hard working husband and the mother of a 5 year old and 2 year old. I believe I've turned into a recipe aholic. I absolutly love this web site. I love recipes and I enjoy collecting them. I'm eager to post alot of recipes but must find the time first.
View Full Profile