Best Pizza Recipe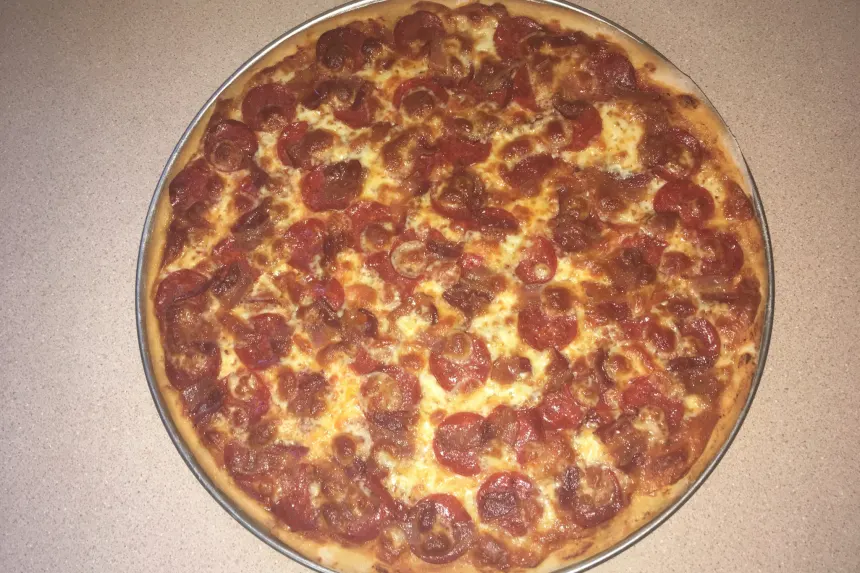 photo by stevanwhite

Ready In:

2hrs 20mins

Ingredients:

27

Serves:

5
directions
Directions for dough:

Get a Pyrex measuring cup and pour in the water. Microwave the water for about 30 seconds. Next take the measuring cup out of microwave and stir in the sugar and the honey. Now add the yeast and stir well. Set this aside for about 10-15 minutes.
In a mixing bowl mix the dry ingredients: All Purpose Flour, Bread Flour, Baking Powder and Salt. Take about 3/4 of the dry mix out of mixing bowl and set it aside. You should have about a quarter of the mix now left in the  mixing bowl.
In the mixing bowl where there is only a quarter of the dry mix add the yeast water, olive oil, balsamic and red wine vinegar. Whisk this together very well for about 20 seconds. Immediately dump the rest of the flour mix into the bowl. I like to use a wooden spoon to mix the rest together.
Knead the dough for a good 10-15 minutes. If you have a machine that can knead dough then use that if not look up how to hand knead pizza dough online. You may have to sprinkle a little extra Bread Flour from time to time if it gets too sticky while kneading.
Once kneading is finished form the dough into a ball then grease your hands with about a half tablespoon of olive oil and coat the dough ball. Next place the ball of dough into a large bowl and cover with cheese cloth or plastic wrap.
Let the dough rise for about an hour in the kitchen then punch it down and knead it again for 10-15 mins and recoat with olive oil.
Place the dough in the fridge. In about 45 minutes the dough is ready to be formed to make the pizza.

Directions for sauce:

This recipe makes enough sauce for about 2 Pizzas.
Take the roma tomato and put it into a food processor or blender and make it into a sauce like consistency. Add the tomato you just blended and rest of sauce ingredients into a small cooking pot on the stove. Put on low heat and leave the lid on until it simmers then take off the lid to let some of the water evaporate. Cook on low heat for at least an hour or more (depending on desired consistency). When it's time to put the sauce on the dough I recommend starting with 3/4 of a cup of sauce I definitely would not use any more more than a cup of sauce.

Directions for cooking:

Preheat oven to 425 make sure you have a center oven rack placed already.
Grease a 16" flat pizza pan lightly with olive oil.
Use about a handful of bread flour and coat the counter or wherever you are going to form the dough.
If you don't know how to work dough by hand I suggest looking it up online. This dough is amazing to work with and rolling pins are for the birds.
Once you got dough made into pizza crust place on pizza pan. If you stretched too much of the dough and too much over hang then just hold pan about 6 inches in air and drop flat on counter. It will shrink a little that way.
Sauce the crust evenly and do not put too much sauce on there as it won't cook as well. Start with 3/4 cup of sauce and spread evenly. If that looks too light add a tad more.
Use about 2/3 of the cheese and evenly coat the crust. Add toppings and add rest of cheese on top (this will help hold toppings together).
Cooking time varies as not all ovens are the same. It usually takes about 18 minutes on center rack then move the pizza to bottom rack for 3-4 mins to make the bottom lightly golden.
When done let it rest for at least 8 minutes before cutting and serving.
Questions & Replies

Got a question?
Share it with the community!
Reviews
Have any thoughts about this recipe?
Share it with the community!
Tweaks
I suggest trying the original dough recipe before trying this tweak. If you like Papa Johns style pizza dough here's what you can do to the dough recipe to make it like that: Instead of using a mix of all purpose flour and bread flour, just use bread flour for both portions. Instead of using all purpose substitute that amount with bread flour. Add two more tablespoons (3 total) of balsamic vinegar and omit the red wine vinegar. Use an extra half teaspoon of yeast.

 

I've shared my recipe on other sites and alot of people are freaking out about the little bit of ketchup that's in the sauce. It's purpose is to add a tad bit of tart and sweetness to the sauce. Just look at thousand island dressing - it has a lot more ketchup in it and has its own distinct flavor in combination with the rest of ingredients. Anyways here is a really nice sauce recipe that uses San Marzano tomatoes that's tweaked from various recipes I've found online. It tastes a bit better just is more expensive to make and is enough for 3 pizzas so freeze the leftovers: A 28 ounce can of San Marzano tomatoes 1 tablespoon of finely minced carrot 3 cloves of garlic minced 1 teaspoon sweet basil 1/2 teaspoon of oregano 2 tablespoons of grated Parmesan 1 teaspoon dried onion 1/2 teaspoon honey 1/2 teaspoon thyme 1/4 teaspoon parsley 1/4 teaspoon salt 1/4 teaspoon pepper 1 tablespoon olive oil 1/2 teaspoon brown sugar Optional: 4 oz tomato paste I found the tomato paste really help add more sweetness that got me pretty close to the pizza sauce I like. I use the water that's in the can with the tomatoes but if you don't want to use that I guess measure what's left and substitute with water. You have to put the tomatoes in a blender or food processor to make a sauce and just simmer for an hour or so until desired thickness.