Bakesale Betty's Fried Chicken Sandwich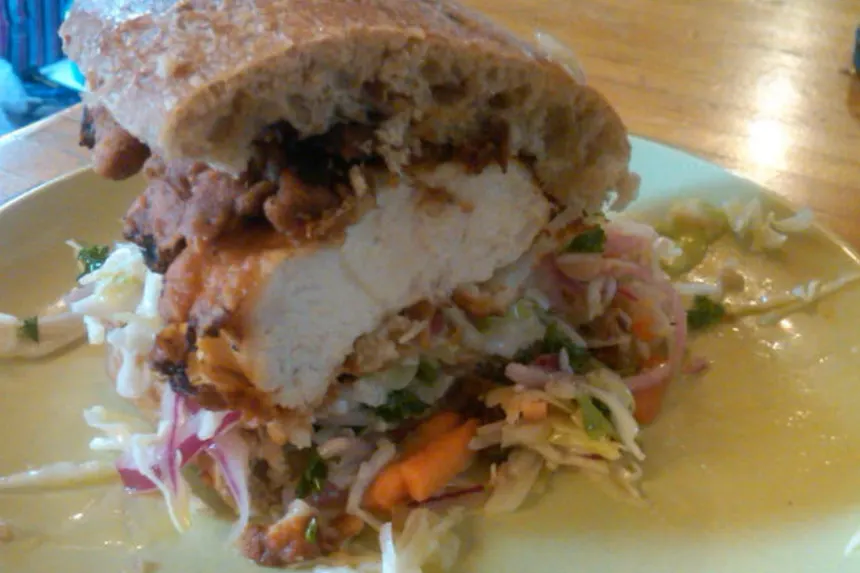 photo by writergyrl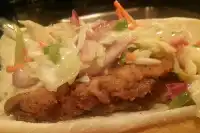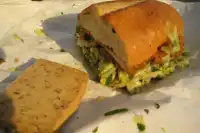 Ready In:

1hr 45mins

Ingredients:

19

Serves:

4
directions
Season chicken breasts with kosher salt. Let sit at least 5 minutes. Fill a wide, shallow nonreactive bowl or casserole dish with buttermilk. Add the chicken and soak in the refrigerator for 1 hour up to overnight.
For the vinaigrette: Combine mustard, vinegar and salt in a bowl. Slowly whisk in olive oil until well blended.
For the coleslaw: Macerate onions in the cup of red wine vinegar, and let sit at least 20 minutes. Remove onions and discard vinegar. Toss onions with jalapeno, parsley, cabbage and salt. Toss with vinaigrette until evenly coated.
To fry chicken: Pour vegetable oil into a large stockpot. Do not fill up more than halfway, or the oil could splatter. Bring oil up to 365°, using a digital thermometer/candy thermometer to monitor the heat. Prepare the the breading while waiting for oil to heat up.
In a wide shallow bowl, mix flour, cayenne, salt and pepper. Pull a chicken breast out of the buttermilk one by one, letting excess drip off, and dredge completely in flour. To create a thick crust, place in buttermilk and dredge in flour a second time. Do not drain or shake off excess buttermilk or flour during the breading process.
When the oil is at 365°, carefully place chicken pieces into oil one by one. Let it cook for a minute before disturbing chicken, then help it "swim" in the oil with tongs, until it is evenly cooked, about 5-7 minutes. Remove chicken from oil and drain on paper towels. Season immediately with salt.
For the sandwich: Place fried chicken breast on bottom of torpedo roll and top generously with coleslaw.
Per serving: 995 calories, 52 g protein, 63 g carbohydrate, 58 g fat (8 g saturated), 95 mg cholesterol, 1,497 mg sodium, 6 g fiber.
Questions & Replies

Got a question?
Share it with the community!
Reviews
This is as close as I've found to the actual recipe. I watched her on Fried Food Paradise. The only think suspect is the breading. Everything else is spot on. After talking with a cooking teaching friend of mine, I think it's possible the breading might be half corn flour, half all purpose flour. It's either that or she's using a lot more cayenne because the color of it was more yellow on FFP show I watched. Awesome recipe regardless.

 

Spot on, recipe. Thank you, thank you, thank you. Has been my staple diet the last 3 weeks. Lost about 3 lbs. Went form 128lbs to 125lbs. It must be due to this salad. Love Bakesale Betty's sandwiches. I am a weekly fan. I think I have the salad and the vinaigrette down. Just need to start trying the chicken though. I do not think I will embark on the chicken just yet. Maybe over the holidays. I have just been doing the salad and it has been enough for me. Thank you for this recipe.

 

Yummy sandwich. Very delicious. More authentic when you cook it at home. Hot and fresh! I had all the ingredients except cayenne and kosher salt. I had sea salt and paprika on hand and it's just as good. The coleslaw was oily-licious messy. I bought a pre-cut coleslaw package at the store. It has julienned carrots in it, which is good too. There was no need to slice up a whole cabbage. Make sure you don't overheat the oil or else it burns quick. I prefer to dip the chicken in the flour mixture once; instead of dipping it twice into the buttermilk. It has a nice light crunch that way. If you dip it twice, that's fine too. It'll just have a thicker batter and lots of crunch to it. I made four sandwiches and gave it to my boyfriend and his friends. They all loved it!! It was delicious. Thank you for the recipe! It's very close to Bakesale Betty's Sandwiches.