Zucchini- Mom's Favorite Way
Prep 30 mins
Cook 30 mins

Close family friend who has shared many great italian recipes gave this to Mom years ago. Still our all time way to cook zucchini. Up to you about how many layers to use. You can use italian seasoning in place of oregano, if you like.
3 -4 medium zucchini, sliced 1/4-inch thick
1 medium onion, sliced in rings
4 -5 slices bacon, cooked & crumbled-reserve fat
1⁄2 teaspoon salt and pepper
1 tablespoon oregano
1⁄2 cup ketchup
Directions
In reserved fat, saute onions until cooked, remove & set aside on a paper towel. Add zucchini to pan & saute until cooked, drain on paper towel. In casserole layer- zucchini, onion, salt & pepper, oregano, bacon & dot with ketchup. Continue until all are used. Finish with bacon & ketchup. Bake at 350@ for 20-30 minutes until hot & bubbly.
Reviews
Most Helpful
Yum! This was a great way to cook zucchini. I loved the onions and bacon. I also really loved the tomato base from the ketchup. I used an 8 by 8 casserole dish and it seemed to be a good size. Congratulations on your win, SB6! :)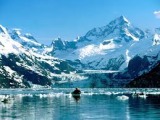 Everyone in my family really enjoyed this zucchini dish. The bacon gave it a crispy touch, but I think the sauteed onions was the best part of this vegetable dish. It all complemented the zucchini nicely. Thanks for sharing your recipe, SB6.

We really enjoyed this quick and easy zucchini. We especially liked the bacon, which added a wonderful flavor to the dish. I used Italian seasoning instead of the oregano. We liked the Italian seasoning, but 1 TBSP. was too much for my family's tastes. Next time, I will reduce the amount that I use. Also, after reading previous reviews, I undercooked the zucchini when sauteing(cooked just to the crisp-tender stage), so that it wouldn't be soggy after baking. I baked this in an 8" square baking dish for about 30 mins. Thank you for sharing SB6. *Made for 2009 Football Pool*