Zucchini Fritters With Dill
JustJanS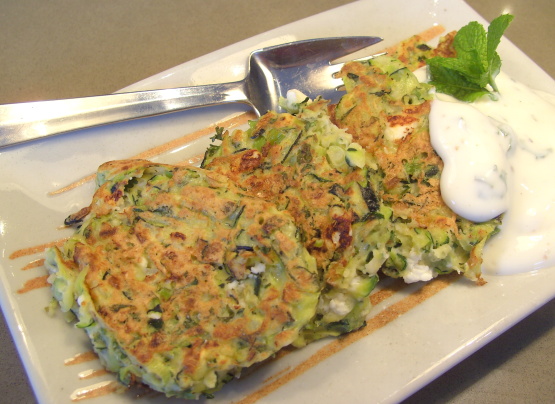 Can't give your Zucchini away!!!! Try these, they can be served hot, cold or even at room temperature. We love them hot straight from cooking served with lemon wedges and a nice yougurt based sauce such as Cacik or Tzatziki Sauce. Found this in a local paper and such a great way to use up those Zucchini over the summer months.

I made these for our lunch today and have to confess to using our garden mint in place of the dill (too mean to buy it!). I made a minted yoghurt to go with them too. I thought I had an onion, but didn't so used finely sliced spring onion instead. They are so very yummy and a wonderful way to use our own zucchinis. I can't wait to eat them again. I made a half recipe for the two of us, but we could have easily polished off a full one-they aren't very big, but they are delicious!
Grate the zucchini coarsely and put grated zucchini into a colander. Sprinkle lightly with salt and toss, then leave zucchini for 20 minutes to drain. Rinse the zucchini briefly, then squeeze it to extract as much liquid as you can, pat dry with kitchen paper and leave to dry on paper for 5 minutes .
Mix the zucchini with the onion, garlic, fetta, herbs and eggs in a large bowl. Sift in the flours, then season with pepper and stir to combine.
Heat a little oil in a non-stick frying pan over medium heat until sizzling. Drop small tablespoons of batter into the hot oil and flatten gently. Cook for 2 minutes on each side, or until golden brown. Drain on kitchen paper and serve piping hot with a yoghurt sauce and lemon wedges.