Rita1652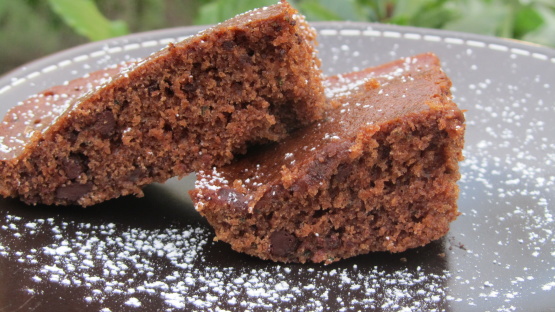 Delicious way to use up zucchini! The flavor profile is similar to other cakes up here, but the proportions are different. This is tasty and not too sweet when served plain, or you could dress it up before serving by sprinkling with some powdered sugar or adding frosting - chocolate or cream cheese are great options with this! Just allow the cake to cool before frosting, if doing so. I received this recipe from a friend at my bridal shower.
This is (and soon to be was!) delicious! I used buttermilk and threw some extra chocolate chips on the top - can never be too many chocolate chips! Made for PAC Fall 2012
Grease a 9x13" pan. Preheat oven to 350°F.
Cream together butter and sugar. Beat in vegetable oil, eggs, and vanilla extract.
In a separate large bowl, combine flour, cocoa powder, baking powder, cinnamon, cloves, and baking soda, and mix well.
Alternate between adding the sour milk and the butter mixture into the flour mixture, beating after every addition. Beat until smooth and all ingredients are fully incorporated.
Stir in zucchini and chocolate chips.
Bake 45-60 minutes, or until it tests done to the poke test.