Yummy Veggie Shepherd's Pie
Annacia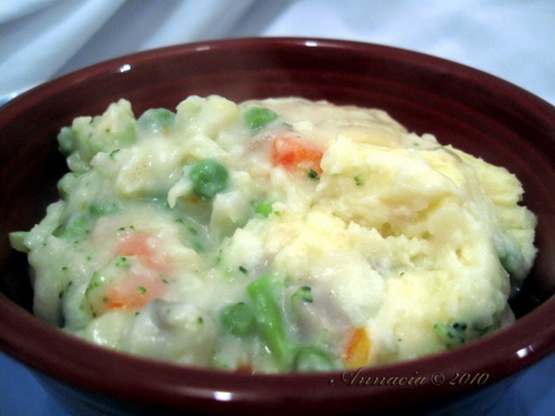 I'm not sure where I found this, but it is so good. Great sauce for the veggies.

I actually wasn't as impressed with this recipe as other reviewers. I love that it incorporates so many vegetables in one dish. My household is vegetarian and I'm always looking for comfort food I can make that doesn't include meat. I thought this was a little bland and it defiantly isn't the same without meat. It was a bit bland and I didn't care for the way the potatoes rested on top. I plan to make it again with some additional spices and a layer of vegetarian meat crumbles.
Combine all the vegetables and steam just until tender.
Boil the potatoes until soft. Drain and mash with 2 tablespoons butter, yogurt and cheese.
Pre-heat the oven to 375 degrees.
In a large saucepan, melt butter, add in flour and cook 1 minute, then whisk in milk and broth. Simmer until thick.
Add in the steamed veggies and sage. Season with salt and pepper, to taste. Set aside.
Spread the vegetables in a large baking dish, and spread the potato mixture on top.
Sprinkle additional parmesan cheese on top if desired.
Bake for 30 to 40 minutes or until lightly golden.