Bergy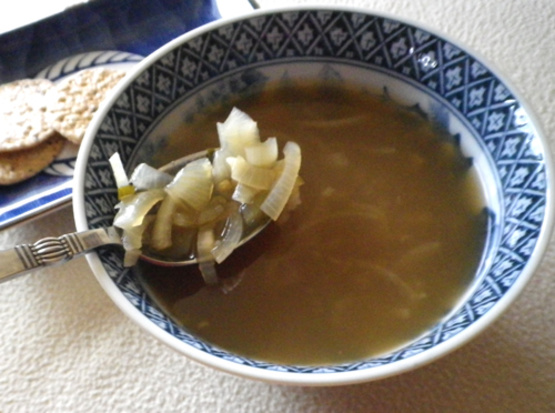 It's my take on French onion soup.....well it's not so much French, but it tastes amazing with crunchy garlic toast with melted mozzarella cheese. if your like me who can't have dairy then plain is just as delicious.

Top Review by Bergy
Another winner - This simple soup is so easy to make and tastes so good. I added 3 gatlic cloves and 2 chopped leeks (the garden overflows with them) Added note:24 Sept I have made this again and added a photo I repaeat it is a lovely light soup that we really enjoy Thanks nikki PAC2008
Soften onions with the 3 tbsp of margarine, but don't brown.
Add flour and make sure it doesn't burn out the bottom and it forms a white coating on the onions ( make a roux).
Make sure you ave the liquids ready, so the flour doesn't burn. Add the liquid and stir, making sure you get all the stuff on the bottom of the pot.
Then on med heat add the Worcestershire, sugar, salt and pepper.
Bring to a simmer and let it cook for 3-5 minutes or until the onions are nice and soft.
You can add any spices or herbs. I sometimes put garlic and basil or replace the chicken stock or beef stock to make it more rich in flavor.
Also the ratios may change depending on the size of your onions.