Yummy Mexican Lasagna W/ a Healthier Kick!
DuChick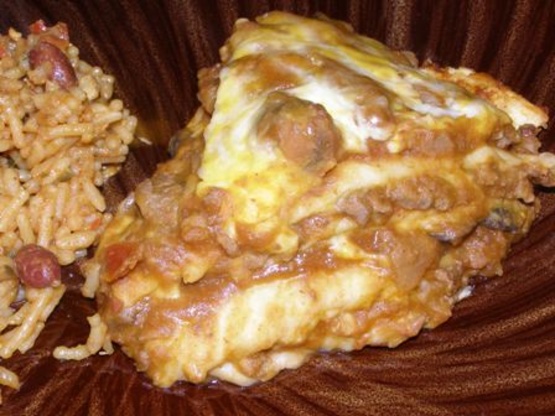 I can't remember where I got this recipe from but I altered it a bit with using turkey instead of beef, lower fat cheese, and no fat refried beans instead. It's so delicious and my family ate it up!

Quick, health(ier) and yummy to boot! I cut this in half for the 4 of us, but kept some amounts the same such as the rotel, olives and garlic. Should there really be 2 full cans of refried beans in the full 10-serving amount? One can of beans worked just fine in my casserole, so maybe that's the way it was planned. Anyway, we loved it and it hit the spot for us! MERP'd for my adopted chef in PAC Spring '10.
Preheat Oven to 350.
brown turkey in skillet over medium heat for 5 mins, add onion and garlic and sautee another 5 mins, add taco sauce, rotel, black olives, refried beans and simmer on low for 15 minutes
In a 3 quart casserole dish put a thin layer of meat mixture at the bottom, place 2 overlapping tortillas on top. Then add a layer of meat mixture and cheese, repeat w/ tortillas, meat, cheese until tortillas are gone -- leaving a layer of the meat mixture w/ loads of cheese on top.
Bake at 350 for 20 mins or until cheese is melted and bubbly. Enjoy!