Juenessa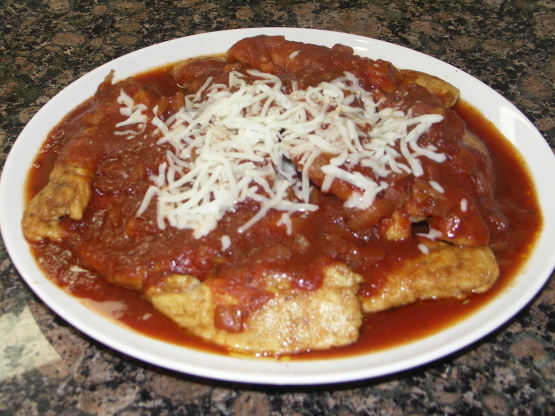 I don't know how Italian this actually is, but it's sure good!

All of us enjoyed this chicken dish tonight! I served this with a side salad and french bread. I sprinkled about 1/2 cup of mozzarella cheese on top of the chicken. My husband and oldest son ate the chicken, sauce, and cheese on hamburger buns and really liked it that way. Thanks so much SweetSJD!
In a small saucepan, saute onion and 1/8 tsp paprika in 1 tsp oil until tender.
Stir in the water, tomato paste, bay leaf, bouillon and Italian seasoning. Bring to a boil.
Reduce heat and simmer uncovered, about 10 minutes.
In a large plastic bag or covered container, combine flour, Parmesan, salt, garlic powder, oregano and 1 tsp paprika. Add chicken and shake to coat.
In skillet coated with cooking spray, cook chicken in oil until juices run clear, 2-3 minutes each side.
Discard bay leaf from sauce and serve over chicken.