Kireiina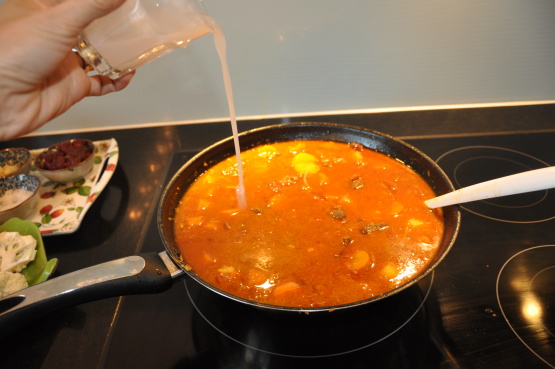 The original name of Curry is Kari in Tamil language, which means "sauce" as many dishes that are widely prepared in South India and cooked with vegetable or meat and usually mixed with cooked rice and served hot.

This was really good. I had some problems with the recipe, but I just did what I thought best and it turned out ok!. DH wouldn't eat it because it smelled very curry-like but it was not too spicy. I served on toast points but we all thought it would have been better on white rice. Made for PAC 14.
500

g beef, cut into pieces big like matchbox

300

g sweet potatoes, peel and sliced them into cube

1

carrot (optional)

2

large white potatoes (optional)

600

ml coconut milk

5

lemongrass, use a wooden hammer to hit the stems and then cut them into 2 inch long each pieces

2

yellow onions, peeled and sliced

1

white onion, peeled and thin sliced

473.18

ml tomato sauce

4

hot red peppers, pureed

2

inch fresh ginger, minced finely

3

garlic cloves, pureed

29.58

ml lemongrass, pureed

44.37-59.16

ml curry powder

14.79-29.58

ml chili paste (optional if you prefer more spicy)

1

piece cinnamon

14.79

ml salt

29.58

ml sugar

4.92

ml annatto oil

59.16

ml vegetable oil

1

lemon

2

stalk coriander (Vietnamese coriander, called Ngo gai)

5

piece white bread

473.18

ml water or 473.18 ml coconut water
Use curry powder to marinate the beef for about 15 minutes.
Using a large saucepan, deep heart, or soup pot is fine as well.
Heat a wok on the high heat with 4 tablespoons of oil, when the oil is very hot, drop the ginger, lemongrass, yellow onion, garlic, chilli (finely crushed) into the pan, stir and fry for about 4 minutes.
Then add the marinated meat into the pan, stir-fry until the meat shrinks and looks quite firm (about 5 minutes).
Pour the water into the pan and cover, reduce the heat and cook until the meat is tender.
Next, pour the vegetables into this pan, stir, add sugar and salt and then cover the pan, wait until the potatoes and carrots are soft.
Now, pour the coconut milk in the curry pan. Try to test the taste and add seasoning, if necessary.
Dressing: Ladle curry into a deep plate and decorate with fragrant knotweed, some fresh peppers and white onion ( sliced).
Tips: Must be eaten while hot. Served with crunchy toasted white bread, white cooked rice or fresh noodles. Cook faster with pressure cooker.