Yorkshire Pudding With Herbs
PaulaG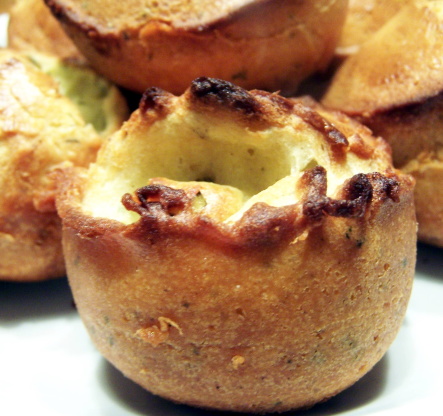 Here are the "secrets to success" for making Yorkshire Puddings and, believe me - roast beef, gravy & yorkies - it just doesn't get any better! Prep time includes "standing".
This came out great! And your "secrets of success" are the same ones my mama taught me! However, I don't think my mother has ever cooked with any herb. My husband loved these so much I am making it again, but trying in one pan and then cutting it. Oh, and here's my new secret - I put the batter in a glass jar with a lid, so I can just shake and pour. :wink:
In a medium bowl, whisk eggs just to blend.
Gradually whisk in milk.
Sift flour and salt into egg mixture and whisk until well blended and smooth.
Whisk in all herbs.
This is the first key to success- let the batter stand at room temperature for AT LEAST 30 minutes!
While the batter is resting, preheat the oven to 450°F.
This is the second key to success- the oven must be very hot!
Re-whisk the batter before using and transfer to large measuring cup or pitcher with a spout so it will be easy to pour.
Heat muffin tin with 12 muffin cups in oven for 10 minutes.
This is the third key to success- the muffin tins must be very hot!
Transfer drippings or melted butter to a measuring cup with a spout so you can easily pour it into the muffin tin.
Pour about 1 tsp drippings or melted butter in each muffin cup.
Return pan to oven for about 6 to 8 minutes.
This is the last key to success- the fat must be very hot!
Pour batter evenly into the muffin cups onto the hot fat.
Bake until puddings are golden and puffy, about 12 to 15 minutes.
Puddings will sink slightly in centre.
Serve immediately out of oven while still hot.