Derf2440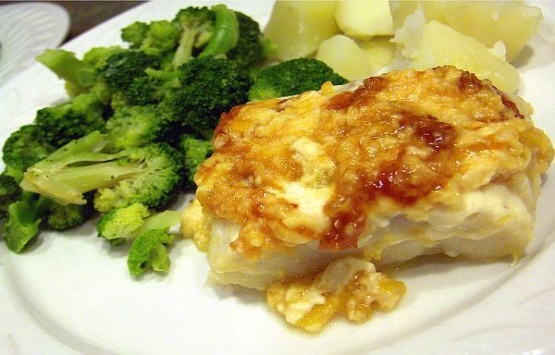 This is so simple a recipe that I hesitate to post it, but we love it and it is delicious!

Thanks for this recipe base Derf! I NEVER thought about making Cod or any fish this way but I tried it and it turned out really good! I used 1.5lbs of fresh Cod that I cut into 4-5 inch squares and I used 6 TBLS Whole milk/cream plain Greek Probiotic Yogurt that I flavored with the spices from recipe #28199 (Baked Salmon)... 5 Garlic cloves (minced) 2 Tsp. Dried Basil 2 Tsp. Sea Salt ½ Tsp. Ground Black Pepper 2 Tbls. Fresh Lemon Juice 1 Tbls. Dried Parsley I marinated the cod in this yogurt mixture in a bowl for 2 hrs then placed the cod on a non-stick cookie sheet & topped with the remaining yogurt mixture. Next, I baked it for 15 minutes then moved it up to the broiler for 10 more minutes as I had relatively thick portions of Cod. Divine!!! I served it with Pureed Cauliflower and Scalloped Potatoes. I WILL be making this again. Soon!!
2

(226.79 g) cod fish fillets
salt & pepper

100

g containerprobiotic yogurt (your choice of flavour, we like peach)
vegetables, spray
Preheat oven to 350f degrees.
Sprinkle salt and pepper over both sides of cod.
Place cod in a shallow, small, oven proof dish; spread yogurt over top of both fillets.
Place on middle rack of preheated oven, roast for 10 to 15 minutes, depending on the thickness of the cod and until the yogurt is bubbling and slightly browned.
Serve hot and enjoy!
Alternately, cook on stove top in a small preheated, veggie sprayed frypan, do not turn over, cover for the last 5 minutes; it will not brown cooked this way but will taste just as good.