gailanng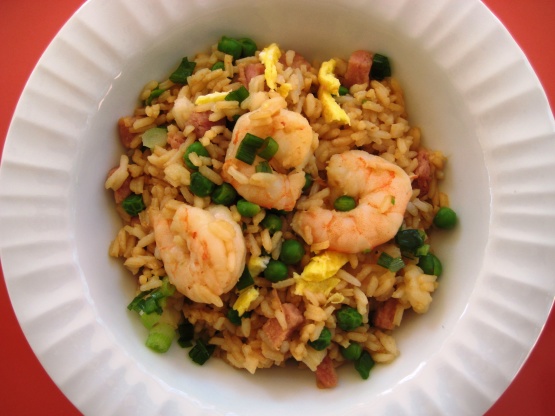 Yangchow, or Yangzhou cusine of the yangtze river delta occupies a particularly important position in the devolopment of Chinese cookery. Apart from the well know lion's heads and many noodle dishes, Several Cantonese dim sums such as "shaomai" and steamed dumplings are as of the yangzhou origin.
Heat a wok over high heat until hot, add about 2 Tbs of oil and stir fry the shrimp, meat and peas.
Add the salt and rice wine.
Cook for a minute then set aside in a bowl.
Heat the remaining oil and lightly scramble the eggs.
Add the cooked rice, scallions and salt.
Stir to make sure that every grain of rice is seperated.
Then add the shrimp, meat and pea mixture.
Stir until everything is well blended (or about a minute).
Serve hot.