World Famous Twice Baked Potatoes With Bacon
lazyme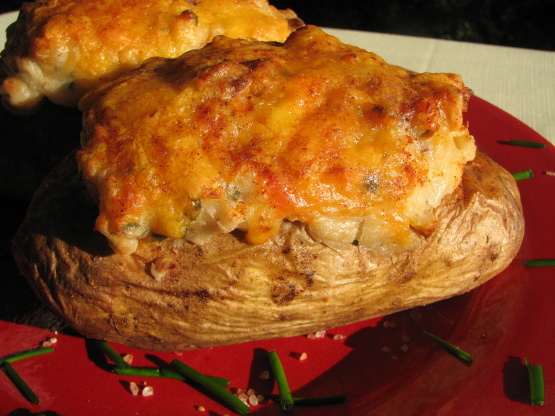 These potatoes have become one of my trademark dishes. When I have friends coming into town they frequently call ahead to request it! The best part is that you really can make them the day before and just heat them up when the time is right. However, they never make it through the night in my household! We usually eat the potato as the main dish, with a big salad for a nice little meal. However, the guys sometimes like to grill steaks and corn to serve on the side.
Preheat oven to 400 degrees. While warming up rinse the potatoes and vent them with a fork 6-8 times.
Lightly brush potatoes with olive oil and sprinkle with sea salt. Bake in the oven for 45-60 minutes, until outside is getting crispy and inside feels soft.
Towards the end of the potatoes baking, cook up bacon on medium heat until lightly crispy. I usually cook the bacon first and chop it after it is crispy, then returning it to the pan. Add wine and garlic. Feel free to add pepper to taste. I use the garlic from a jar but fresh works just as well. Leave on very low heat.
After removing potatoes from the oven, use a knife to cut an oval in the top of the potato, leaving about 1/4 inch on all sides. Scoop out potato and put into large bowl. When you are done you should have 8 potato shells.
Combine potato and butter. Blend with a mixer on low speed until butter melts.
Add milk, seasoning, 3/4 cup of the cheese and the bacon mixture. Beat on high speed until smooth. Add more seasoning if necessary to taste.
Spoon mixture into shells. Use the remaining cheddar cheese to top each potato and sprinkle with paprika.
Place potatoes on a baking sheet or dish and bake at 375 degrees for about 30 minutes, or until potato is warm and cheese on top is crispy.
Enjoy!