If you like chicken salad, you'll love this one! It is good plain with crackers or served in a pita or a croissant. It is wonderful for women's luncheons. Everyone loves it.
Directions
Cook rice according to package directions. Drain and cool to room temperature. Add rest of ingredients in a large bowl and mix well. Cover and chill a couple hours before serving (overnight is fine).
Tips: I have been using the Uncle Ben's 90 second microwave pouch for the rice part. I use the long grain and wild rice mix.
I also think it tastes better with canned chicken.
Reviews
Most Helpful
This is sooo good and a refreshing salad on a hot day. We wrapped in Pitas for a nice fresh lunch. I added the craisins, cuz I love them and I also used the Uncle Ben's 90 second microwave pouch for rice and it worked great.

This is the absolute best chicken salad I have ever made! I doubled the recipe, omitted the water chestnuts, used organic green grapes, walnuts for the nuts & did use the optional craisins. I LOVE the contrast of taste between the zing of the purple onion and the sweetness of the grapes & craisins. Last night for a snack, I ate some of this chicken with whole wheat ritz crackers. Yummy, yummy! Thanks so much for an amazing recipe!!!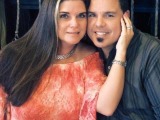 Very good. Wrapped it in tortillas and it was excellent. We used cashews but didn't add the water chestnuts. Otherwise, I did it exactly as written.