Sarah L.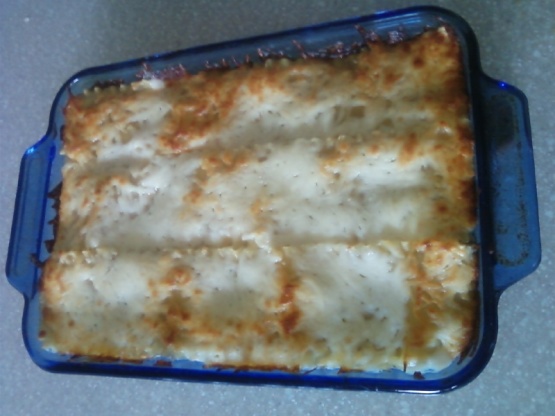 I can't remember where the original recipe for this was, but I've tweaked it plenty since finding it a few years ago. I was looking for recipes to ease my SO's acid reflux and this was a delicious find! We cook the ground turkey with an entire clove of garlic, but this might be a bit much for some.
This was excellent! My family loved it!
Cook lasagna noodles according to package directions and set aside.
Brown ground turkey/beef with garlic, salt and pepper.
Preheat oven to 375 degrees.
Line the bottom of a 9x13 baking dish with one entire tub of alfredo sauce, spreading evenly.
Layer 3 noodles over alfredo sauce.
Put half of the ground turkey/beef over the noodles, distributing evenly.
Sprinkle meat with 1/3 of the mozzarella.
Layer 3 more noodles on top of meat/cheese.
Pour the other tub of alfredo over the noodles, spreading evenly.
Add the rest of the ground turkey/beef evenly over the sauce
Sprinkle with another 1/3 of mozzarella.
Layer with the remaining 3 lasagna noodles and top with the rest of the mozzarella.
Bake for about 30 minutes or until the top of the lasagna begins to turn brown and bubbly in places.
Let cool 10-15 minutes before serving.