White House Broccoli Soup
Annacia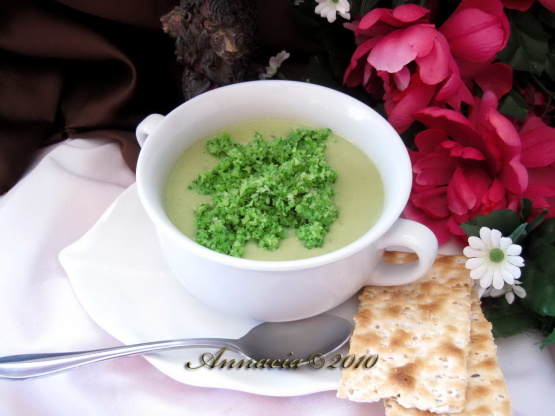 This is made at the White House by Chef Cristeta Comerford. I haven't made this yet, but have been looking for a broccoli soup that's yummy but healthy too. I have added the option of adding just a little cream if you like. Enjoy! The soup is a little thin, so I removed one of the cups of stock. Add it if you like it on the thin side.

OUTSTANDING SOUP, for sure! As Annacia did, I added a little cornstarch to thicken it up, but other than that, followed your recipe ~ Well, I did substitute lemon pepper for the S&P, but otherwise . . . ! I really liked the inclusion of the leek & shallots, & it was nice to keep it veggie with the vegetable stock! Thanks for this keeper! [Made & reviewed for this month's VIP in the Vegetarian/Vegan Recipe Swap 20]
1

tablespoon butter

6

garlic cloves, sliced

4

shallots, sliced

1

leek, white part only, sliced

1

sprig thyme

1

small onion, sliced

2

heads broccoli, stems sliced, and green tips reserved for puree

6 -7

cups vegetable stock (the original recipe calls for chicken stock)

1

bay leaf
salt & freshly ground black pepper
1⁄4 cup cream (optional)
In a medium-size saucepan, over medium heat, add the garlic, shallots, leeks, onion and thyme. Sweat in the butter until fragrant.
Add the broccoli stem slices and saute until softened.
Pour in the chicken stock and bay leaf and simmer for about 20 minutes.
In the meantime, blanch the broccoli tips in a pot of boiling water over medium heat until bright green. Remove the tips from the water and "shock" in a bowl of iced water.
Drain the green tips and puree in a blender. Set aside.
Puree the soup in a blender and strain through a fine chinoise into a large serving bowl. At this point, if you really want to, you could add about 1/4 cup cream.
Add the green tip puree and season with salt and pepper, to taste.
Serve piping hot.