Shuzbud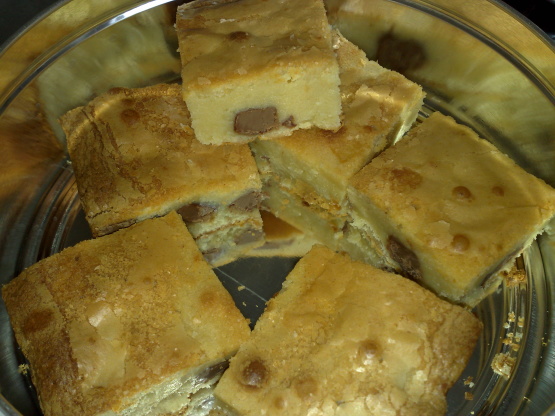 These are from the Australian Woman's Weekly magazine and because of the white chocolate in the base, they are very rich and flavorful. I make 1 1/2 times the given recipe to make them deeper in the pan. The milk and dark chocolate can be substituted by just about anything else- cinnamon works very well.

Top Review by Katzen
Deliciously rich and decadent! I sent these in to work with DH, who had been off work for a week after surgery, and the comments that came back were that they are unbelieveable squares, unbelievably delicious, and that I'm the bomb! (Woo hoo!) I'll definately keep this recipe in my back pocket for when I want to wow someone! I made 1.5 times the recipe, as suggested, so baking took an extra 10 or 15 minutes. I'm on the fence about whether you need to make them deeper in the pan, though, because they're so decadent already! This almost drained my chocolate bar supply in my baking cabinet, so I'll need to stock up before making it again! One thing I should note was that my white chocolate/butter mixture did separate, and wasn't coming back together when I was mixing it as noted in the recipe. I dumped it in the bowl of my KitchenAid, added the whisk attachment, and the eggs and sugar, and let it whisk for a few minutes, and it came together beautifully! This is very quick to make, too - just make sure you allow time for it to set. Thanks SO MUCH, Shuzbud, you made me a real star today! Made for PRMR Tag.
Grease a deep 19cm square pan and line base and sides with baking paper.
Combine butter and white chocolate in a pan. Stir well over a LOW heat until melted. If it begins to separate, remove heat and stir until blended again.
Cool 10 minutes. Meanwhile, chop the milk and dark chocolate and set aside.
Stir in sugar and eggs, then flour.
Mix in milk and dark chocolate chunks.
Spread into the prepared pan.
Bake in a moderate oven for about 30 mins or until firm to the touch.
If desired, sprinkle with icing sugar or cocoa before cutting.