MsSally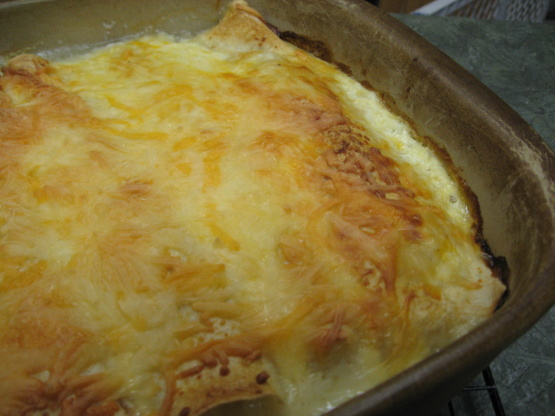 My children like this recipe, because I don't make it with the green chilies or hot peppers. This recipe is for those of us who don't like things so spicy. I hope you like it.

My family really liked this dish..I only used 3 cups of milk or else it would have been way too runny..but that may have been because I used a 'lite' butter and trim milk..it was still deliciously saucy and got rave reviews from all. Thanks for sharing.
Place chicken legs and vegetables in large pot, cover with water and cook for aprox. 1 hour.
Remove chicken and take off the skin and shred the chicken.
Refrigerate the stock, skim off the fat and freeze it for another use.
Over medium heat, melt butter, add flour, cook for 1 minute.
Add hot milk and cook until slightly thickened. (not too thick).
Add salt, pepper and nutmeg to taste.
Take 1 cup of the sauce and mix it in with the chicken.
Place as much of the chicken mixture you like on each tortilia and wrap them up placing them seam side down in a sprayed baking dish.
Pour the remaining sauce over the enchiladas.
Sprinkle with cheese.
Bake in a 350 oven for 25-30 minute.