C.C619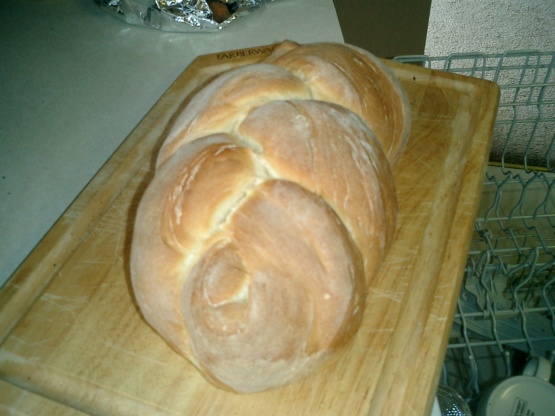 This recipe is for a plain white loaf, its one of my favourites. I had to learn to make bread being a Brit and living in the USA. I don't like the American bread as it is so sweet. Its a very simple recipe. I make it by hand. I have tried and do still own a bread machine, but I found it came out like a cakey texture and the texture to me is important. I usually double or triple this recipe as the dough keeps well in the fridge for about 3 days. If you have company staying with you, it's nice to have for breakfast--the smell of bread baking is wonderful and homey.

I use this recipe all the time. The texture is good, flavour fab and it works very well made into bread rolls. I adjust the cooking time accordingly, when golden, tap the underneath of the rolls, when it sounds hollow they are done! Thanks Chris its a keeper!
Combine milk and water in a microwaveable jar and heat for 1 minute.
Put yeast in a small bowl with the sugar and a little of the warm milk and water mix and allow to prove. It takes about 10 minutes. It should have doubled in volume be frothy.
Put flour in a large mixing bowl add salt and pepper and stir to combine.
Add butter and crisco to the flour and rub into the flour.
When the yeast has proved make a well in the middle of the flour and add the yeast and some of the milk and water mixture, stir into the flour, adding a little of the milk and water a little at a time, till a soft dough is formed. It may take more or less of the milk mix depending on the moisture content of your flour.
Put flour on your hands and turn dough out onto a floured surface and Knead for 10 minutes, add extra flour to dough and hands to prevent it from sticking.
When dough is smooth, put into a large bowl that has been sprayed with Pam to prevent it sticking, and cover with Clingfilm and leave to rise, for about 1-1 1/2 hours or till it has doulbed in size. Its is best left in a warm area for this.
After the dough has risen turn out onto a floured surface and knead for 5 minutes, (at this stage the dough can be put into ziplock bags and stored in the fridge for up to 3 days, it will continue to rise, so it needs to be a quart sized bag) then shape into desired loaf shape or put into pre greased loaf pan.
Preheat oven to 400°F.
Cover the dough and leave to rise again for about 15 minutes.
When dough has risen brush with egg wash and sesame seeds and a little kosher salt.
Bake at 400°F for about 30 minutes.