White Bean Dip With Pita Chips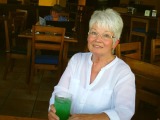 Easy and delicious. A recipe from Giada de Laurentis on Foot Network.
Directions
Preheat the oven to 400 degrees.
Place the beans, garlic, lemon juice, 1/3 cup olive oil, and parsley into a food processor.
Pulse until the mixture is coarsely chopped.
Season with salt and pepper to taste.
Transfer the bean puree to a small bowl.
Cut east pita in half and then into 8 wedges.
Arrange the wedges on a large baking sheet.
Pour the 4 tablespoons olive oil over the pitas.
Toss and spread out the wedges evenly.
Sprinkle with the oregano, salt and pepper.
Bake for 8-12 minutes.
Serve the pita toasts alongside the bean puree.
Most Helpful
I served this with pita chips at a party recently. It's got a good flavor and it's fairly healthy compared to a lot of party foods. I would definitely make it again.
I was going to post this myself. I have Giadis' Everyday Italian cookbook and just tried this last night. DH and I really liked it. Something different and healthy too. Giada refers to the dip as an Italian version of hummus which I think I myself prefer. Try this as a different appetizer to serve to guests. Enjoy!