loof751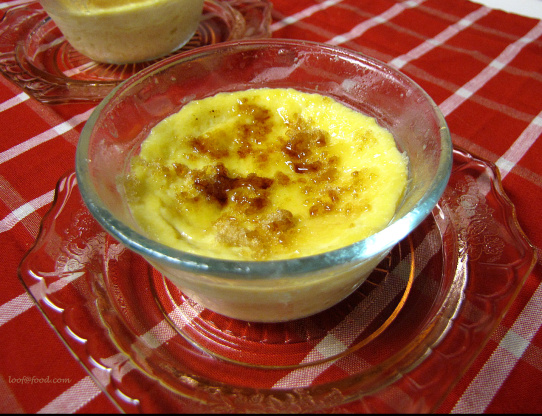 Haven't tried this one yet, but seeing as I love both crème brûlée and whiskey, I'll have to soon! Recipe from Glorian ruoka&viini magazine.

Delicious elegant dessert that's really pretty easy to make! I made half the recipe in 2 ramekins and it did take the full 1 1/2 hours to cook. Nice rich taste, not too sweet, and the whiskey was there but the flavor was not overpowering. Loved this - thanks for sharing the recipe! Made for the Best of 2011 event, recommended by Mikekey
4

egg yolks

29.58

ml sugar

200

ml milk

200

ml whipping cream

50

ml whiskey

Caramel topping

brown sugar or muscovado sugar
Preheat oven to 120°C
Whip yolks and sugar until light. Stir in milk, cream and whiskey.
Pour into 4 buttered ramekins. Bake in the preheated oven until set, about 1,5 hours (start checking early, the time depends on the depth of the ramekins).
Take out of the oven and allow to cool completely; then place in the frige for a few hours.
Just before serving, sprinkle brown or muscovado sugar on top of each cold crème brûlée. Caramelize the sugar by using a torch or putting under a broiler. Work quickly - sugar should caramelize but the crème brûlée should still be cold!