Wheat Berry Salad With Dried Apricots
jenne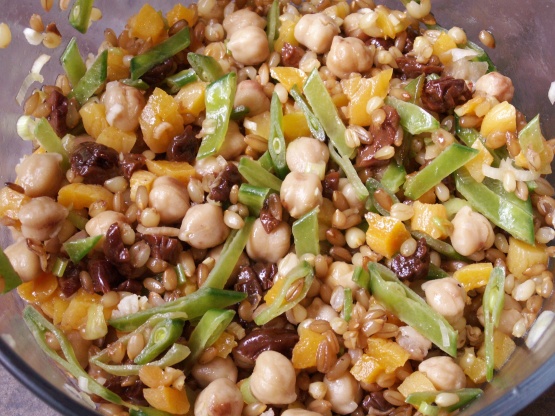 Another BH&G winner. Haven't made it yet, but plan to do so next time our friends who are vegetarians come over for dinner. Prep time does not include chilling time or cooling time for wheat berry mixture.
In a medium bowl combine wheat berries, 3 cups water, and 1/8 teaspoon salt; cover and refrigerate overnight. Transfer to medium saucepan; bring to boiling. Reduce heat; simmer, covered, 45 to 60 minutes or until tender. Drain; cool 1 hour.
In large bowl, combine drained wheat berries, garbanzo beans, snow peas, apricots, cranberries and green onions.
In bowl, whisk together oil, lemon juice, and 1/2 teaspoon each salt and pepper. Pour over wheat berry mixture; stir to coat. Serve at once or cover and refrigerate up to 24 hours.