Wasabi Crusted Chicken Breasts
lazyme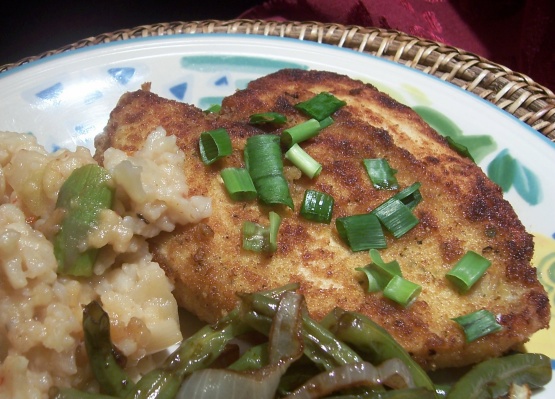 Adapted from Bon Appetit. This is absolutely "to die for!" Looks fab, but is quick and easy to prepare. Very gourmet!
Combine breadcrumbs, wasabi powder, salt, and pepper.
Place beaten eggs in pie dish.
Dip chicken in egg, then in breadcrumb mixture.
Turn to coat completely.
Heat 2 tablespoons peanut oil in heavy large skillet over medium-high heat.
Sauté 2 chicken breasts until golden and cooked through, about 3 minutes per side.
Transfer to platter.
Repeat with remaining oil and chicken.
Add teriyaki sauce, sake, and chicken broth to skillet and bring to boil.
Scrape up browned bits.
Drizzle sauce over chicken.
Sprinkle with sliced green onions and serve.