Tisme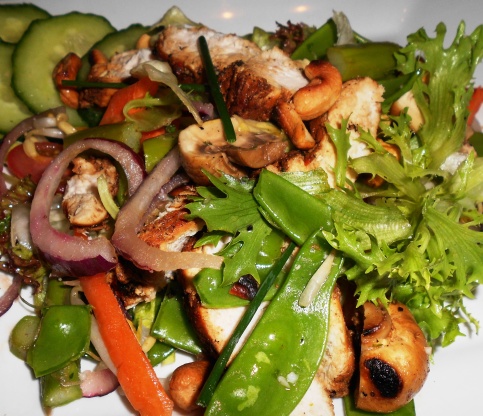 I make lots of variations on this. Sometimes I add tomatoes or sun-dried tomatoes,croutons, cucumber, red onions, pine nuts, olives-whatever is on hand and needs using. Prep time includes 30 minutes marinating.

Top Review by Tisme
We loved this!!!!
The flavours were fantastic, and as you say Jan this recipe lends itself to using different vegetables. I followed as written .... well I did forget to serve it topped with yoghurt (I forgot that at the end as I was so excited to serve it) but I did add cucumber and mushroom that I had on hand, and they went so very with everything else in the recipe.
This will be a great recipe for the coming summer months for this family.......Thanks Jan.
Combine chicken, sambal oelek, garlic, ginger and lemon juice in a bowl and marinate for 30 minutes-marinating longer will make the salad tastier and spicier.
Remove the chicken from the marinade and coat in the Cajun seasoning.
Heat the oil in a pan and fry the chicken for about 5 minutes, or until just cooked through.
Remove the chicken from the pan, set aside and keep warm.
Boil, or steam the asparagus until tender.
Combine all remaining salad ingredients including asparagus in a bowl, toss with the dressing and divide among 4 plates.
Slice chicken and divide amongst the 4 plates.
Serve with a dollop of yoghurt on each.
DRESSING: Combine all dressing ingredients in a screw-top jar.
Shake until well mixed.