Walnut Cake With Penuche Frosting
Redsie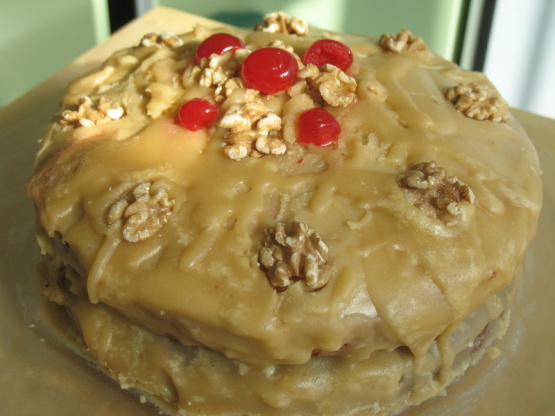 Another recipe from my mother-in-law. I make this when I want a change from the usual chocolate or white cake. The frosting is perfect for this cake.

Top Review by Redsie
You have got a winning recipe here Lainey! Made this to bring over to some friends and everyone loved your cake! Your instructions were very clear... except for the milk which you have in your ingredients and do not appear in your instructions... I added it at the same time as the dry ingredients. I had a bit of trouble with the icing (you were right that the frosting hardens very fast!!) but the cake in itself was moist and delicious and the icing is sooooo good!!! Thanks Lainey (and your mother-in-law!!) for this great recipe!
Grease 1 13x9 inch pan or 2 8-inch cake pans. Preheat oven to 350 degrees.
For the cake, cream the butter and sugar until light and fluffy.
Add eggs, one at a time. Beat well.
Add vanilla.
In separate bowl, combine the dry ingredients.
Add dry ingredients to sugar mixture, alternately with the milk. Mix well.
Pour batter into cake pan or pans.
Bake at 350 degrees for 30 minutes or until cake tests done.
For frosting, boil butter and sugar 2 minutes in microwave oven.
Add milk. Boil again.
Beat in sugar and vanilla.
Make the frosting shortly before the time you want to put it on the cake as it gets harder with time.
Allow cake to cool slightly before frosting.