Walla Walla Sweet Onion-Swiss Cheese Casserole
BarbryT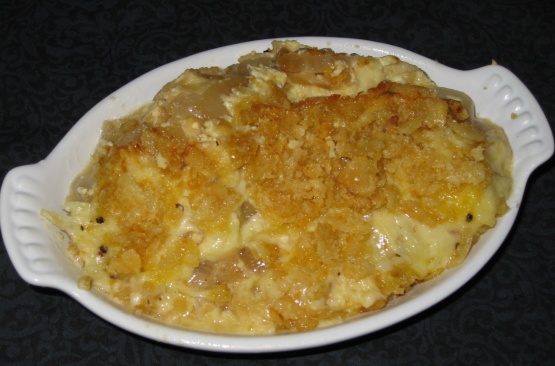 A nice side dish for roast beef or ham. Use Walla Walla Sweets or Vidalia's for this. Regular yellow onions aren't sweet enough.
This was a great side to have with our roasted pork tenderloin. I cut the recipe back to serve 2 and used Ritz crackers instead of Saltines since that is what I had. I think next time I will try a combo of swiss and maybe mozz or cheddar (DH thought it was too much swiss, though I loved it!). Made for 2011 Football Pool Win.
Peel and cut the onions in half and then quarter the halves. Slice the quarters in food processor fitted with slicing disc.
Preheat oven to 350 degrees.
Melt 1/4 cup butter in a large skillet and saute onions over medium heat until tender.
Place half the onion mixture into a 1 1/2-quart oven-proof casserole.
Sprinkle 1 cup of Swiss cheese and 1/2 cup cracker crumbs over onions. Repeat layers of onions and cheese.
Beat eggs with the half-and-half, salt and pepper. Pour evenly over layered contents of casserole.
Melt 2 tablespoons butter in skillet and stir in remaining cracker crumbs. Lightly brown over medium heat. Sprinkle browned crumbs over casserole.
Bake for 25 minutes.