gailanng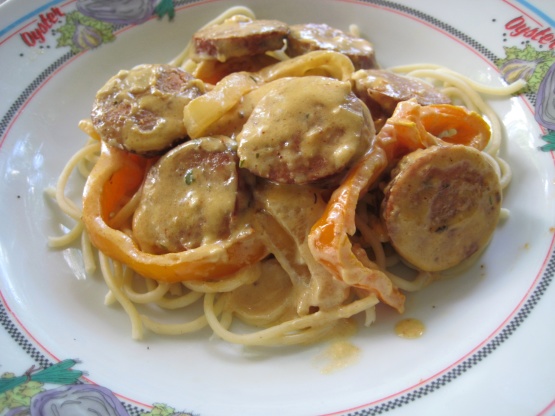 If you like Cajun/Creole flavor, this recipe is for you! It is a super easy and delicious, spicy Cajun creamy pasta dish!. We make this at least once a week, it's that good! The recipe is very flexible, try substituting chicken or shrimp for the sausage! Everytime we make this for company, they beg for the recipe! Serve with garlic bread and a salad and you have a great meal!

Delicious and SUPER easy--and looks like it took a lot more effort. I only had a 1/2 lb of sausage on hand but it still worked out great! We used rotini pasta, but any pasta would work just fine. Will definitely be making this again!! **Forgot to add--We needed the entire 15oz jar of sauce to make this to our liking**
Cook fettuccine noodles as directed on package.
In a large non stick skillet add the sausage, green pepper and onion. Sprinkle with the blackening seasoning and stir.
Cook in skillet on medium-high heat until browned.
Add the Alfredo sauce and Tabasco.
Reduce heat to medium and simmer until sauce is hot, stirring occasionally.
Pour sausage and vegetables over pasta.
Toss until coated.
Serve with garlic bread and salad! Enjoy!