dicentra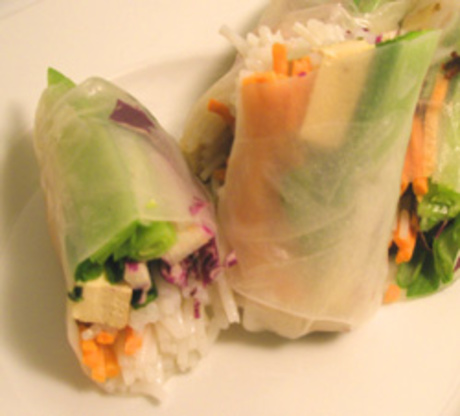 You can eat these plain or with a dipping sauce (which I also have a recipe for).

So delicious and easy to prepare!! I just happened to have all the ingredients handy, so it worked out perfectly!! Just like the ones you get at a restaurant, especially when dipped in a yummy peanut sauce. My only gripe is the rice papers can be a bit difficult to work with once wet. So rolls 1-4 looked pretty deformed until I got my technique down!! Hahaha, but rolls 5-8 looked perfect! Oh well, they all taste the same regardless of how they look, right? :)
Bring water in a medium saucepan to a rapid boil.
Submerge cellophane noodles in water until just softened, about 30-45 seconds.
Remove and reserving hot water, drain.
Pour the reserved hot water into a wide, shallow pan (pie pan, casserole dish, etc.).
Assemble all cold/salad ingredients including the shrimp and the cooked cellophane noodles in an assembly line format around an open, flat surface such as a cutting board.
Place one dried rice paper wrapper into the warm water for a few seconds or until softened. Remove promptly or it will get soggy. Remove, let the water drip off and place on the cutting board.
Fill with all ingredients, being careful not to overfill.
Roll it up like a burrito (fold bottom over filling, then tuck each side in, then complete roll to form a neat, tight package), cut diagonally to create two halves and serve immediately.