Vietnamese Fresh Spring Rolls
IngridH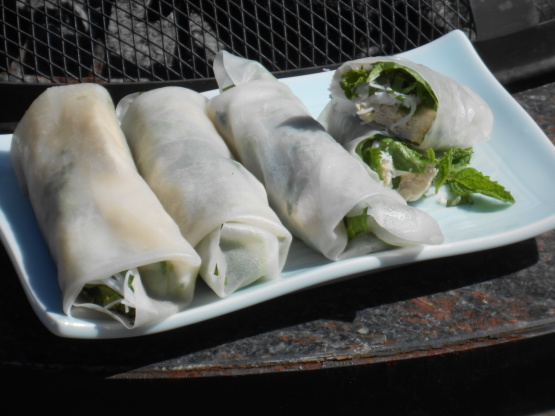 These spring rolls are a refreshing change from the usual fried variety, and have become a family favorite. They are great as a cool summertime appetizer, and are delicious dipped in one or both of the sauces.

This was really yummy. We would definitely make again. The directions made good sense to someone who has never made spring rolls before; and while it wasn't particularly difficult, rolling these up is a skill that takes a bit of practice. My 10 year old niece says she would definitely make these for her family. Made for ZWT9
Bring a medium saucepan of water to a boil. Boil rice vermicelli 3 to 5 minutes, or until al dente, and drain.
Fill a large bowl with warm water. Dip one wrapper into the warm water for 1 second to soften. Lay wrapper flat. In a row across the center, place 2 shrimp halves, a handful of vermicelli, basil, mint, cilantro and lettuce, leaving about 2 inches uncovered on each side. Fold uncovered sides inward, then tightly roll up the wrapper, beginning at the end with the lettuce. Repeat with remaining ingredients.
In a small bowl, mix the fish sauce, water, lime juice, garlic, sugar and chili sauce.
In another small bowl, mix the hoisin sauce and peanuts.
Serve rolled spring rolls with the fish sauce and hoisin sauce mixtures.