PaulaG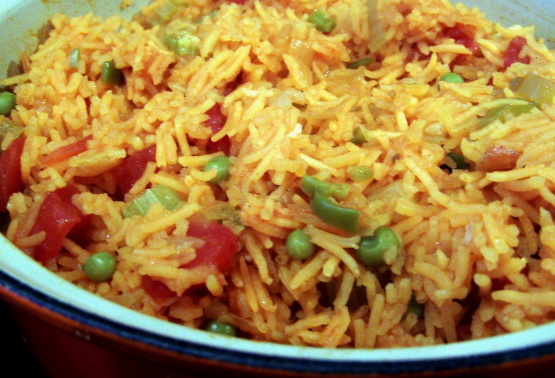 I wanted to create an easy spanish rice with ingredients I had on hand and this does not dissapoint. The Sazon is optional but very tasty...I've used both the tomato and the azafron flavor and both are good. I always use Uncle Bens converted rice for a fool proof dish every time! Covering the rice with a towel is an old mid-east trick that absorbs any excess water...it really works!
Top Review by PaulaG
This is a great way to fix Spanish rice. The onion and celery were cooked in a small amount of olive oil omitting the butter. The rice was then added along with the remaining ingredients. I drained a can of diced cut tomatoes and used for the chopped tomatoes. Next time I will probably reduce the amount of tomatoes. Using the dish towel to absorb the moisture is a great trick which worked great. This dish was served along with recipe #127747 for a Mexican themed Christmas brunch.
1. Bring 2 1/4 cups water, Sazon, garlic, and chicken base to a boil.
2. Meantime, melt butter or oil and saute veggies with cumin, chili,salt,pepper and 1/4 cup chicken broth until tender crisp -- about 5 minutes or so.
3. Add veggies, rice, and peas to boiling water mixture and simmer on very low for 20-25 minutes until liquid is absorbed. No peeking! Remove lid and cover pot with a clean dish towel and then put lid back on until ready to serve. Enjoy!
4. NOTE* on occasion, I've topped this rice with more chopped tomato and green onion - crumbled bacon is also good.