RonaNZ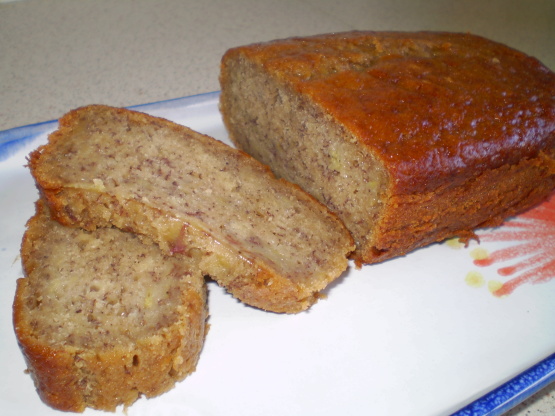 This banana bread is, without a doubt, one of the very best I have ever made. The loaves have a very nice deep color and a beautiful crumb. The secret is not the unusual liquid ingredient, the secret is slow baking. Oil makes this recipe parve, (thanks Mirj for explaining this to me & Chia and Miraklegirl for your help too).

Top Review by Ouisey
I made this yesterday morning and stuck to the recipe exactly. It turned out perfect. In fact, I wrapped one of the loaves and put a bow on it and took it to my sister-in-law's house for dinner last evening. She is an excellent baker and I would never take anything to her house unless I was very, very pleased with it. Thanks, Susie, this one will be made again at our house.
Preheat oven to 300 degrees.
Spray two 9 X 5 inch loaf pans with non-stick cooking spray.
Using your food processor, puree the bananas, then remove the puree to another bowl and set aside.
No need to clean the work bowl of your food processor, just add together and blend well the sugar, oil, eggs and vanilla.
Takes about 1 minute.
Measure and mix together, in a separate bowl, all the dry ingredients except the nuts.
Return banana puree to processor work bowl.
Add dry ingredients and blend, pouring in the coca cola as mixture is blending together.
Blend until smooth, about 1 minute.
Blend in nuts by hand.
Divide mixture between the two loaf pans.
Place loaf pans on a baking sheet in the oven.
Bake for 1 hour and 20 minutes OR until loaves test done in the middle with a toothpick.
Let cool about 10-15 minutes then turn loaves out of pans to finish cooling.
These loaves keep well or can be frozen.