Venezuelan Scrambled Eggs - Perico Venezolano
PaulaG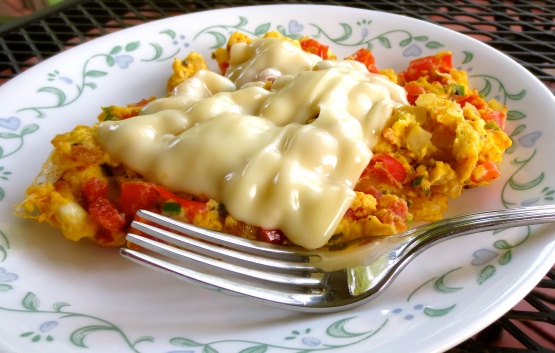 Posting for the Central/South American region of ZWT. A popular breakfast dish in Venezuela is perico, eggs scrambled with onions, tomatoes and peppers. It's colorful name means "parakeet" in Spanish, and it can be eaten with bread or stuffed into arepas. Found this on Whats4eats.com.

I made this as posted, but added a few crushed red pepper flakes for extra spice. I enjoyed this very much. I cut the peppers, onions, and minced the garlic the night before, so I cut my morning cooking time before heading to work. I thought this was delicious! Thanks for sharing. Made for ZWT7 Central South America 2011.
Heat the oil in a skillet over medium-high flame. Add the onion, bell pepper and garlic and saute for 3 to 4 minutes, or until the onion is softened and translucent.
Add the tomatoes and cook for another 3 to 4 minutes to reduce the liquid somewhat.
Reduce heat to low, add the eggs, salt and pepper and cook, gently stirring the eggs occasionally to scramble them and just long enough to cook them through while keeping them soft.
Serve with bread or arepas and a slice of fresh cheese.