ImPat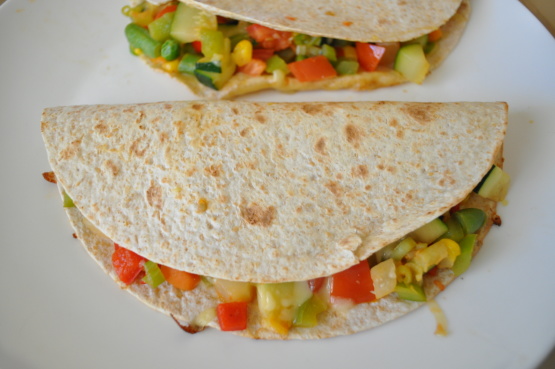 A healthy snack from the CA Department of Public Health.

I did use all of the veggies ask for but also scrambled an egg into them. All I had for brekkie was toast and tea and thought that the egg would be a good protein addition for lunch. I also added some garlic and a drizzle of some bottled hot sauce which isn't showing in the photo. Totally tasty and easy. Thumbs up from me Deb.
Spray a medium skillet with nonstick cooking spray. Saute bell pepper and corn over medium heat until softened, about 5 minutes.
Add green onion and tomato; cook for several minutes more until heated through; stir in cilantro.
Heat tortillas in a large skillet over high heat. Place equal amounts of cheese and vegetables on each fortilla; fold in half and continue to cook until cheese is melted and tortilla is crisp and lightly browned. Serve while hot.