Parsley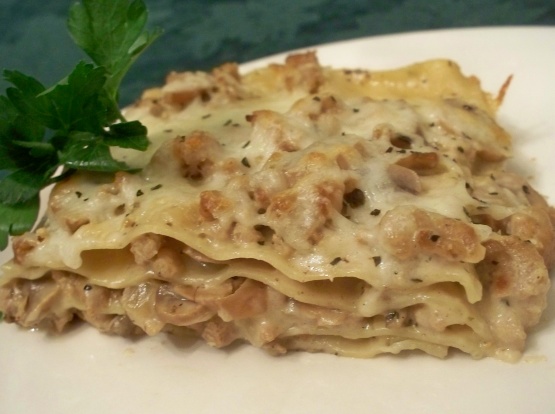 Rich, creamy and very yummy. Use Oven-Ready lasagna noodles--it is much easier.

OMG! This lasagna is amazing, I change the milk for Kefir, and it's creamy it's rich it's flavorful! I LOVE it! And went a little cheesier for those who L-O-V-Cheese I sprinkle skim milk 1% fat mozzarella in between layers and on the top not much really may be used 1/2 cup total!
In 12-inch skillet brown meat in olive oil in batches; set aside.
Add mushrooms to skillet and saute until golden.
Return meat to skillet, reduce heat to low, cover and simmer 30 minutes until tender stirring occasionally.
In 3qt saucepan saute onions and garlic in butter until tender, about 5 minutes.
Stir in flour and cook a minute or two.
Add milk and chicken stock, stirring until thickened.
Add meat and mushroom mixture, sherry, salt, nutmeg, dried thyme, dried basil, and dried oregano.
Simmer a few minutes stirring frequently.
Add cream.
Spoon a thin layer in bottom of 9x13-inch baking pan.
Arrange noodles over top lengthwise. Layer in about 1/2 meat mixture.
Repeat layers ending with noodles.
Cover dish tightly with foil and bake in 350°F oven for 45 minutes.
Remove cover, and sprinkle with Romano cheese continue baking about 15 minutes or until lightly browned.