Veal in Mustard Cream Sauce
ImPat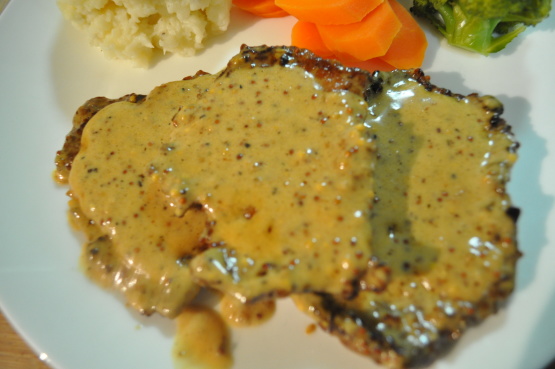 A very nice dish, which is easy to make and nice enough to serve to guests.

Top Review by ImPat
I used 800 grams of veal for 4 of us and 3 tablespoon of a home made course grain mustard (a gift) which equated to nearly 1/2 cup and was rather strong an overpowering in taste so will cut this back to 1 tablespoon and also cut the other sauce ingredients in half as there was too much sauce for us to eat it all but overall a really good tasty and quick meal to make. Served with mashed potatoe and steamed vegetables. Thank you sams, made for Aussie/Kiwi Recipe Swap #43 August 2010.
Heat oil in frypan. Dust steaks with flour and fry for about 3 minutes on each side.
Remove steaks and keep warm.
Add to the same pan garlic, fry until soft.
Add mustard and wine, cook for 3 minutes.
Add cream to pan stir to combine.
Return veal to the pan, coating all sides with sauce. Cook for 1 minute more.