Vanilla Latte With Vanilla Syrup and Vanilla Infused Raw Sugar
loof751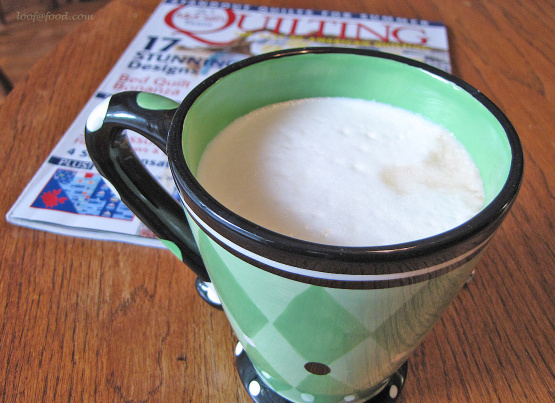 This is a special latte and is so worth making the syrup and vanilla sugar in advance for. The vanilla sugar is wonderful to always have on hand, use it in baking, for topping scones, special coffee's, etc. Just sit back with your feet up and enjoy this exquisite latte with a great book or with a friend along with some juicy gossip.
Vanilla Infused Raw Sugar:.
Pour sugar into a resealable jar, place vanilla bean in center of sugar and seal.
The longer the vanilla bean stays in the sugar, the more heavenly the scent and taste.
*No need to take it out - just add more sugar as needed.
Vanilla Syrup:.
Combine water and sugar in a heavy sauce pan bring to a boil for 5 minutes.
Remove from heat and add vanilla.
Let cool then store in a clean glass jar in the refrigerator.
MAKE THE LATTE:.
Brew your coffee as you normally do, but don't be afraid to add an extra scoop. If you grind your own beans, even better!
Pour syrup into bottom of good sized coffee mug.
In a glass measuring cup, pour in milk.
Using a frother, froth cold milk until good and foamy. If you don't have a frother, use your blender as though you were making a frappe.
Microwave milk for about 20 seconds (watch carefully so it doesn't overflow) until the you see the foam expanding (depending on your microwave this may take longer).
Add milk to syrup and cup.
Pouring down the inside of the cup so as not to disturb the milk, pour desired amount of coffee.
Top with a sprinkling of vanilla-infused raw sugar.