Vanilla Almond Rice Krispies Treats
Kim127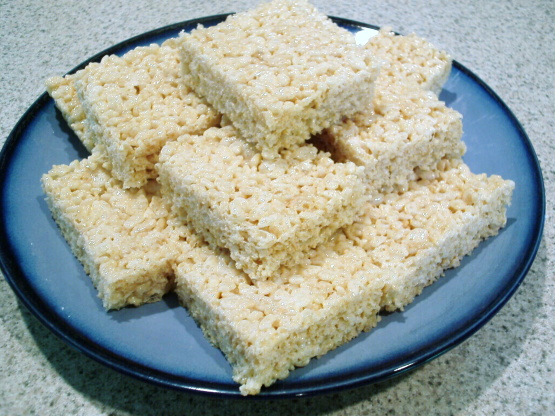 A variation of Kellog's Rice Krispies Treats Original recipe. Just the added dash of vanilla and almond extracts makes these scrumptious!

This recipe is very easy to make. It tastes great, but I am planning to add a little more marshmallows and butter as it is just a tad dry. Rene'
Melt margarine in large non-stick pan (I use my T-Fal Dutch oven) over medium-low heat.
Add marshmallows and stir until melted and smooth.
Turn off flame.
Stir in extracts.
Fold in cereal and continue folding until well coated.
Spray 13 X 9 pan with cooking spray and press mixture into pan (I spray my hand with a little Pam and then use my hand but you can use the back of a buttered spoon if you don't have asbestos fingers like mine).
Cool and cut into squares.