Uncle Bill's Caesar - Canadian Style
Calee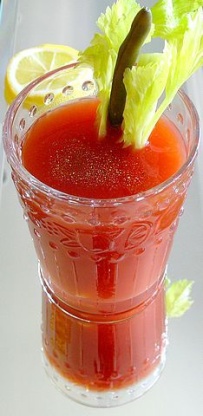 I had this Caesar Drink in Kelowna, B.C. 5 years ago. I liked the horseradish in the drink, it gave it that little extra "pezzaz". Have been enjoying the drink ever since.
One of the best ceasar recipes I've tried. My only adjustment to it is I use limes instead of lemons, and I use a little less horseradish, but that's just based on my preferences. The original recipe is still worth 5 stars.
1⁄2 fresh lemon, for rub on glass rim

1

teaspoon celery salt, for glass rim rub

2

fluid ounces good quality vodka, more if desired
1⁄2 teaspoon Worcestershire sauce

1

teaspoon lemon juice, freshly squeezed

1

teaspoon finely grated fresh horseradish or 1 teaspoon pure prepared horseradish

6

fluid ounces mott's Clamato juice (No subsitutes unless you cannot have Clam juice)

2

dashes Tabasco sauce (optional) or 2 dashes red hot pepper sauce (optional)

1

piece of young celery rib, incluing the leaves (from the middle of the stock)
Rub lemon around rim of glass.
Measure celery salt to a flat saucer.
Turn glass in celery salt to coat rim.
To the glass, add Vodka, Worcestershire sauce, lemon juice, horseradish, Clamato juice, Tabasco sauce and stir well to blend.
Place a young stick of celery, pickled bean or pickled asparagus as a garnish and it is good to chew on.
Eat and drink slowly.
Note: A pickled spicy bean or an pickled asparagus spear are also excellent for a garnish in the drink.
Mott's Clamato juice is available in regular or spicy mix.